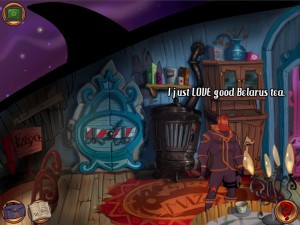 One of the best games I played when I was young wasn't from Nintendo or Sega, it was from Sierra. Sierra recently went out of business, but every once in a while, I see a great point-and-click adventure.
If you aren't familiar with point-and-click adventures, you have to think back to cool games like Myst or the Monkey Island series. There is nothing more that I love than playing a character in a lavish CG world, and then solving puzzles in this world.
Kaptain Brawe: A Brawe New World brings back the point-and-click revolution, and it puts something new to it. Brawe takes place in a world that is steampunk, sci-fi, and retrofuturistic at the same time. It's a little hard to believe that spaceships are made of wood and run on stove power, but that is all part of the fun.
There are a lot of humor as well, and it is very reminiscent of the Space Quest series from the aforementioned Sierra company. Though the humor doesn't work precisely right, the puzzles are challenging and fun.
Kaptain Brawe, a game from G5 and Cateia Games, is available at the Google Play store for about $4.99, and is also available at the Nook and Amazon app store.