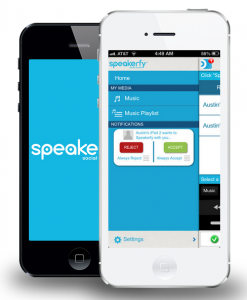 I often don't review apps, but when I do, they have to be unique. Oh man, that sounded like a Dos Equis ad there.
But hey, let's be serious. While I was at CTIA, I took a walk down the application zone, or whatever they called it. There, I saw a very awesome app known as Speakerfy, and it is designed for "social sound".
Now, what does that mean? Imagine if you have music that you want to share, but you don't want to do it illegally. It is very simple if you use Speakerfy. It is an application that allows a user to share music by broadcasting it to other tablets and smartphones.
This is pretty good for situations where you want a "silent disco". This is where you have some music going on, and everyone is on Speakerby so you don't disturb the neighbors.
Apparently, this application is so good, Shaquille O'Neal gave it an award without the Speakerby knowing they were entered.
I have to admit, the Speakerfy is a very useful application, and is available for the iPhone now. You can learn more about it here, and it will be soon available for Android and Windows.