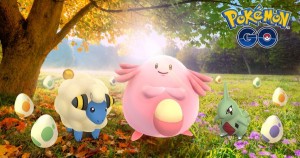 I'm sure that I can't be the only one that feels like they are the only one who still plays Pokemon GO. Yeah, remember how hot this game was in the summer of 2016, but it kind of fizzled out when the weather got cold. Now, over one year later, there is an Autumn Equinox celebration with bonuses for users.
It will start on September 22 at 1 PM ET or 4 PM ET, and according to VG 24/7, users have the opportunity to earn double the normal Stardust for catching Pokemon.
There are also some other bonuses like hatching 2 km eggs that allow the Chansey, Mareep, Larvitar, and much more. I am guessing that you probably couldn't have hatched those guys from a 2 km egg before, because I think I have only hatched them from 5 or 10 km eggs.
In addition to that, there will be special boxes available at the in-game shop that includes some Lucky Eggs, Lure Modules, as well as some Super-Incubators that can hatch eggs at 1.5 times faster the normal rate.
Then there is another bonus which is that any new registration of a new Pokemon into the Pokedex will earn players triple the normal XP. So if you want to get that Raikou, Entei, or Suicune in your area, you should go an do that.
So if you are the type that is still playing, get in on this before it ends on October 2nd at 1 PM PT (4 PM ET).