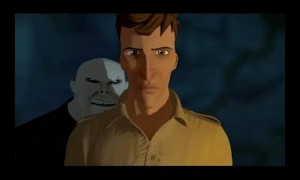 I was pleased with G5's release of Kaptain Brawe: A Brawe New World, and how I wished there were more point-and-click games. If you don't know what a point in click game is, just think of a game where you point and click on things.
Generally, these games are about playing a character, and then exploring a limited world in order to get to another room. I used to love playing Myst, and I especially like games like The Journeyman Project which required going to places as different characters and using items or a combination of items to make things happen.
Point and click games are all about using your mind to solve problems. It isn't like a lot of other games where you just shoot things, not that you don't use strategy in those types of games. In point and click games, you just collect items that you know will be used later. It's like the movie Paycheck.
Yesterday is an interesting game because it has a story that is better than its game. The story is about a man who has found a cure for death, but every time he is killed, he wakes up with no memory of the life that he lived. This could easily be the premise of a movie, TV show, or comic book, and I can't think of any other medium that has tried this.
In spite of the title being the same as a Beatles song, Yesterday is original. In this game, you play several characters, including the villain. It involves a lot of cult history with the Inquisition, alchemy, and other interesting things to make it more interesting.
For some reason, this game was free one day, and I am so pleased that I had the opportunity to try it out. It is worth paying $4.99 for it, and I tried it out on Google Play. I have no idea if it is available for iOS.