Kids these days… They love technology- just as much as their grown-ups. That's why we think the product we're about to review would make a nice Christmas present for young children. Designed by a company in Belgium called Muuselabs, the Jooki will allow your little ones to listen to their music independently.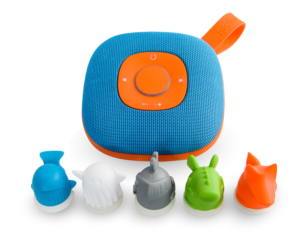 Once adults set up the playlist using the downloadable app(compatible with IOS from 9.0, Android from 4.4, MAC and PC), young ones will be able to choose which playlist they want to listen to by popping a character on to the middle of Jooki. The characters that come with the Jooki right now are a ghost, a dinosaur (I think? I don't know), a whale, fox, and knight. The characters are… interesting, for sure. It sort of reminds me of Amiibo, but with odd characters. The intended audience will love it, though. It works with Spotify, by the way, so they will love it even more.
Other great features of this product includes it's durability. It's built to last in little hands- including being splashproof. Also, with little ones in mind, parents can set the maximum volume it plays, and it has a headphone jack, so great for trips in the car. 8 hours of battery life will let the kids enjoy Jooki on long rides.
Set-up of the device is simple, and there are videos by Jooki on YouTube to help set things up. This company is also known for great customer service- if your device seems to be having issues. You will need an SD card if you have downloaded music you want to use wirelessly.
We can recommend this product. $199.99 buys this item on the Jooki website, or you can also get it on Amazon.com.
Thanks to Muuselabs for sending us a free model to review in exchange for our fair and unbiased analysis. No other compensation has been given.