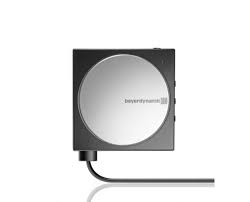 I have reviewed products from Beyerdynamic before, and they put out some very cool headphones, like the T 51 p I reviewed a while ago.
According to the company, headphones like the T 51 p cannot be used to their full potential, due to digital-to-analog converter (DAC) and analog output levels of mobile audio devices rarely meet genuine hi-fi standards. This is where the A 200 p headphone sound supercharger comes in.
The A 200 p is a little box with dimensions of 55 x 55 x 13, and it connects to a smartphone or computer to really kick the sound into high gear. I had a chance to try it out, and this box charges via USB, and then you connect your headphones to it for some superior sound.
I can testify that it works really well, as I connected it to my smartphone, and then cranked it up all the way on an MP3. I have never been able to get any sound that was too loud, but this one hurt my ears. Mind you, this is a good thing, and which is why I recommend this.
You can get the A 200 p for about 299 euros. It comes with a leather case, USB cable, Lightning cable, and micro-USB cable. It also comes with a belt loop holster thing made for travel.