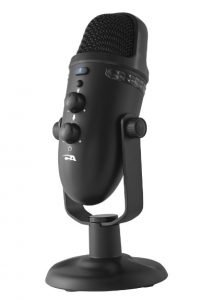 I'm not certain if we have ever reviewed a Cyber Acoustics product before, but we will be reviewing three of them. This is the Matterhorn Professional USB Microphone with Dual Recording Patterns.
If you are in the need of a microphone, which is just about everyone, as you can do gaming, live blog streams, podcast recordings, voiceovers, interviews, and more. So, I noticed when I did the video how much sound that it gave me, and you should watch it below.
It was as easy as plug and play, and you will notice that it didn't quite work right away after I plugged it in while filming. Oh yes, and you can really notice all of the cool colors that flash about it. My wife noticed that this mic would be great for ASMR, and I'm wondering if I should be practicing my whispering as well as getting a furry cover or something.
You will notice that I was very surprised that it had USB micro on it, which leads me to believe that this is an older unit, maybe. After all, everything is kind of USB-C these days.
If you like it and you need it, head on over to the Cyber Acoustics site and pay $49.99. I happened to notice that the box says Matterhorn, like the ride at Disneyland, but this name isn't on the website.