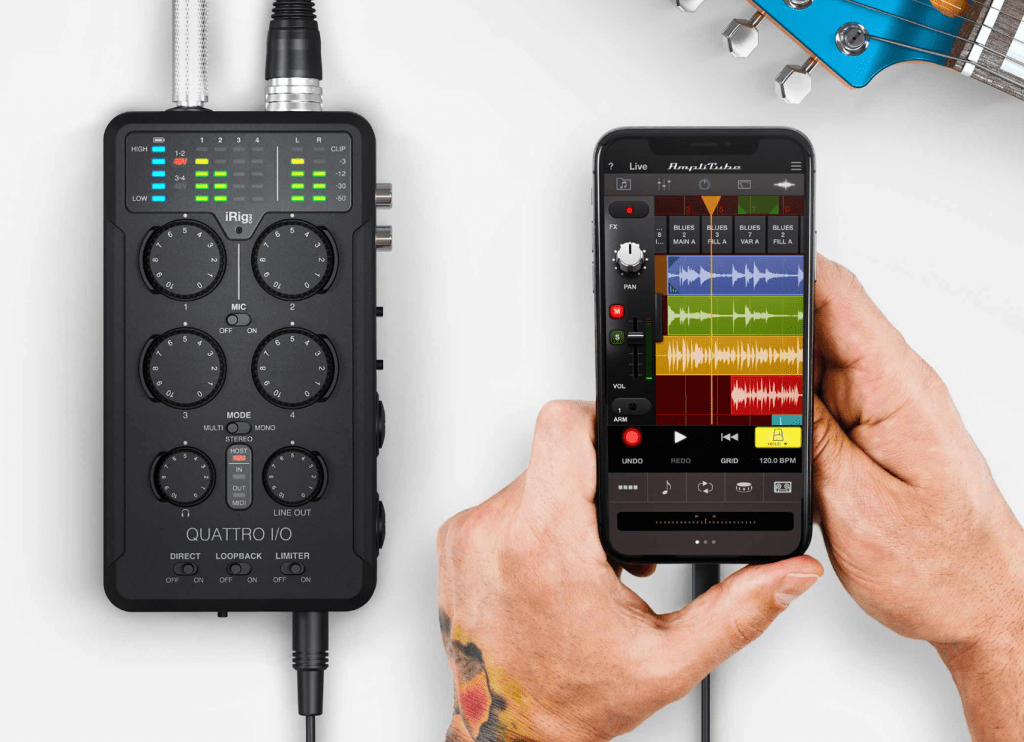 It has been 5 years since we reviewed a product from IK Multimedia, and that was the iRig Keys I/O 25. I used to review their products pretty steadily, and the company has a vision to "give musicians the tools they want/need to be creative and productive". So, when I had a chance to review the iRig Pro Quattro I/O, I jumped at it, even though I am not certain what it does.
The short answer is: "a 4-input professional field recording interface and mixer". The best part is the iRig Pro Quattro I/O is made for anything, and that includes the iPhone, iPad, Android, Mac/PC, and whatever else you can plug it into.
Speaking of which, I decided to just hook it up to my computer to see if it would work on this alone. I then decided to hook it up to my computer, and immediately, the sound just shut off. Fortunately, I have connected some headphones in and could hear just fine.
The first thing you'll notice is the battery indicator, and yes, it can run on 4 batteries, which are included. I am assuming that after the batteries get low, there will be an indicator. Now, you can see the tiny little bars go up and down, and because there is a built-in microphone here, you see it go up here.
You can see the four hi-quality preamps with some gain control. Then there is the host connection and MIDI LEDs. Then there is the headphone level volume and line out adjusters, followed by the direct monitoring, loopback, and limiter switches.
Then there is ports on the side with the MIDI IN/OUT, headphone output, stereo line output, and the balanced line outputs. Then there is the RCA line inputs, 1/8-inch TRS line inputs 3 and 4, 48V phantom power switches, and microphone/line inputs 3/4. In case you are wondering where the inputs on the 1 and 2, they are up here. Then we go to the power stuff here with the 9V DC track, the micro USB, and the other Host.
This is one of my reviews that I think is best served by checking out the video. You can see that I connected it to an old Casio keyboard, and I could have connected it up to some mikes or even more instruments like electric guitars.
If you are someone who needs one of these, head on over to the IK Multimedia website and pay $349.99 for it.