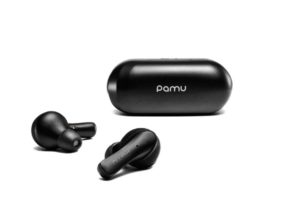 Well, with the holidays being over, I have some stuff to review before I have to get ready for CES 2020. Some of you might remember our review of the PaMu Slide, and so I am pleased to review the PaMu Slide Mini.
I talked at length about how the PaMu Slide is the style of the wireless earbuds of this type today. However, putting the word "Mini" is usually an indicator that you are knowingly paying less for something, like the iPad Mini. In the case of the PaMu Slide Mini, you are getting half of the playback (30 hours vs. the PaMu Slide 60).
The Touch Control and the IPX6 water-resistance is a constant, though. The smaller charging box means that it weighs less, and if portability means something to you, this is good. I don't see this smaller thing can wireless charge your phone, which was something that the PaMu Slide bragged about. The PaMu Slide Mini still brags about the "powerful sound and extra bass".
So, I am not certain if there is some holiday deal going on, but the PaMu Slide Mini is available here for $69.00, which should normally be $149.00.