A few years ago when TechnoMark and I were driving home from CES, our check engine light came on. We ignored it and continued to attempt to make it to our destination. Unfortunately, our van broke down on the side of the road in the middle of nowhere. We got it towed to the nearest town, and would soon learn that the engine had blown. If we had FIXD back then, we might have saved our vehicle.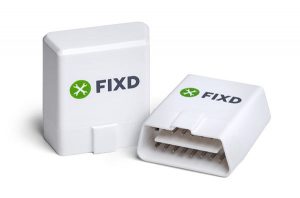 What is FIXD?
FIXD is a small device that plugs into your vehicle's OBD 2 port, and combined with the free app for iOS and Android, you will have knowledge of what's going on when your light comes on. This little gadget will save you a lot of money and headaches when it comes to vehicle repairs, and you can know if your maintenance guy is trying to fleece you.
How Will FIXD Help Me?
If you have a vehicle that is a 1996 model or newer, it is most likely to work for you. FIXD can scan for more than 7,000 problems that can be giving you a check engine light, and notify you exactly what is the problem. Sometimes a check engine light will come on for small things like a gas cap not screwed on all the way. If it's something little like that, you can use the app to turn off the check engine light.
It can also turn off other lights that might come on your panel like TPMS, ABS, Airbag, and Maintenance and Stability Control. This feature will really come in handy for us when the tire pressure light comes on after we change our tires to snow tires. It definitely saves the hassle of having to drive to the shop and ask them to turn it off. It will also send notifications to remind you to take your car in for an oil change or maintenance.
Set Up
The app is simple to download. You do need to register to get it started, but it's pretty painless. The app will show where to plug the sensor in for your particular vehicle if you don't already know where the OBD 2 port is. Plug it in, pair it up with the app, and you're ready to go! The sensor runs off the power of your car, so you don't need to charge it or anything. If you have multiple sensors, you can put them in your other cars and assign them all in the one single app.
How to Buy FIXD
A single FIXD sensor sells for $59 plus shipping and handling on their website. But those who want them for multiple cars can get a special deal- $88 for two, plus free US shipping and handling. If you want three, you can get them for $118 plus free US shipping and handling. They pretty much pay for themselves, since many automotive places will charge to hook your vehicle up to their computer to figure out what's wrong. There's also a 30 day money back guarantee, so you really can't go wrong. We give this product a thumbs up, and look forward to have better protection and knowledge about potential car problems.
Thanks to FIXD for sending us this device for free in exchange for our fair and unbiased review.