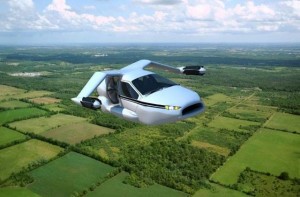 I'm not certain if you have heard of the Terrafugia Transition, but it is essentially a car and a plane all in one. You would need a runway for that auto/plane, but for this new TF-X, it could begin a new age of flying cars.
You will notice that this car is really set up for VTOL (Vertical Take-off and Landings), which means that you could theoretically land it anywhere. Not only does this car have the ability of easy flight, but it has a fully automated flight program.
That's right, this particular craft has the ability to fly itself. This would certainly give some comfort in an age of flying cars, as I'm not certain how I would feel if all these people got quick pilot's licenses. Yeah, perhaps this is why we don't have swarms of flying cars like in Back to the Future II, yet.
Oh, did I mention that this car/flying machine is both gas and electric power? It is. Now all I wonder is if this is the future.