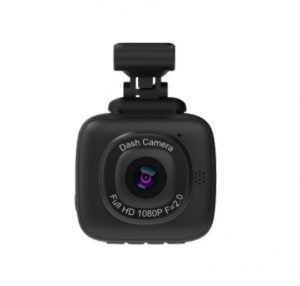 So, we had some great chances to review some terrific Dashcams, so I was very pleased to try out this guy, the Orbit 500 Full HD Dashcam.
I think I said in my video review that I don't really need to tell you the need for every vehicle to possess a dashcam. After all, we live in an era where car accidents happen, and it would be good to have an arbiter in your court case if it should ever come to that.
What makes the Orbit 500 Full HD Dashcam different is that it is set up for Wi-Fi for instant file sharing. It also has 32GB of storage so you can actually capture all kinds of 1080p footage without a microSD card. By the way, the Orbit 500 Full HD Dashcam comes with a 8GB SD Card.
Now, I showed in my video that the Orbit 500 comes with two cords for charging. One of them plugs into the cigarette lighter, or whatever that charging port is called now. This other cord is an OBD II cable that plugs into the that port that is used for diagnostics and stuff. I believe the purpose of that cord is for long parking stays, and it good to see who might be vandalizing it.
Speaking vandalism, there is a G-Sesnor in the My GEKO Gear Orbit 500 that sill detect any impact or even drastic shaking. Should this G-Sensor be triggered, it will lock and save onto emergency files.
I have information about the Orbit 500 Full HD Dashcam on the company website, and found it on Amazon for $59.99.