I haven't heard of RapidX before, and the company website makes it look like they specialize in gaming chairs. However, I did have a a chance to try out two of their newest products with the DualX Dual Charger and the X5 Rapid Car Charger.
RapidX DualX Dual Charger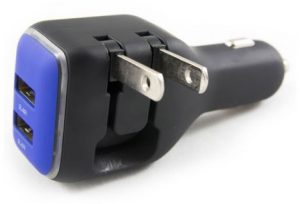 I'm pretty certain that you have seen a product like the DualX before with a plug-in to the car's charger port (formally a cigarette lighter) with twin USB ports. You can see the design of it, and not only does it fit in the car charger, but the wall charger as well.
The DualX has an output for 2.4 A Max, and the prongs can fold into the DualX itself. It certainly is something that is needed by most consumers, as who doesn't need a charging plug?
You should be able to purchase the DualX Dual Charger from the RapidX site for about $14.99 in black/blue, white/red, and white/orange.
RapidX X5 Rapid Car Charger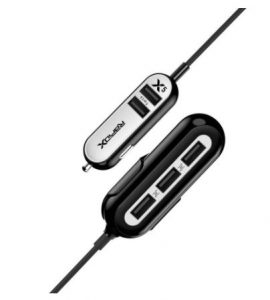 The RapidX X5 is one of those car chargers that will give you an extra USB ports for your vehicle because, as I said before, who doesn't need something like that. Oh yeah, the five ports are different as it has two with 2.4 A output , and three with 2.0 A of output.
It definitely is useful as it is really has a very thin cable. As you can tell, there really isn't much to say about these products, but just because something might be average, doesn't mean that it isn't needed, or even extraordinary.
You can find the Rapid X5 Car Charger on sale for $24.99 on the RapidX site in many different colors.