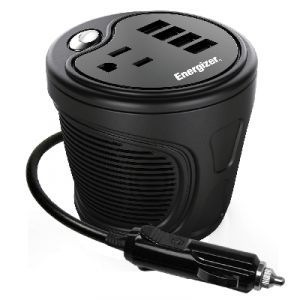 If you do a lot of work on the road, then you know how important it is to be charging your mobile devices while you are behind the wheel. I'm sure that a lot of people have one of those cigarette lighter/USB adapters in their cars, and Energizer has something for the whole family with the 120 Watt Cup Inverter.
The 120 Watt Cup Inverter is made to fit in the cup holder of the driver's seat, and it can power up 5 devices at once. This is provided that you have 4 USB devices and AC/CA plug-in device, and you also need to have a cigarette lighter plug in your car.
As for the rest of the specs, it 120 W Continuous/240 W Peak Power. The four USB ports are 2.1 A Shared, and there is no internal fan, so it is silent. If you want this for your car, you can purchase it on sites like Amazon for about $31.84.