I can't help but make a joke about John Cena with this particular company which loves to make helmets. If you don't get the joke, I'll explain it. Not only is this company called Sena (similar to Cena), but they sell headgear that would be perfect for Peacemaker. We had a chance to try out two of their products with the Latitude SX Snow Helmet and their M! Mountain Bike Helmet, an dhere is what we thought of them.
Our Review of the Latitude SX Snow Helmet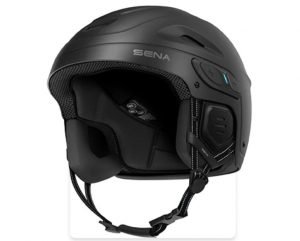 The SENA Latitude SX Snow Helmet is something that I could have used when I was much younger, back when I was young and skiing. I have no idea if it is required to wear a helmet when on the slopes, but I sure could have used one.
I also could have used the SX Snow Helmet in order to communicate with my friends. Yes, this is what the SENA Latitude SX Snow Helmet can do, as it comes equipped with a 4-way Bluetooth Intercom system for communicating with 3 different Sena Bluetooth users.
I had an interesting time getting this thing to work, as I had to download the app and pair the helmet with my phone. For a few minutes, I couldn't figure out why the app wasn't working with my phone, but part of it was just the initial Bluetooth pairing. It turned out that I just had to figure out had to put the SENA Latitude SX Snow Helmet into the correct mode, and my smartphone recognized it right away.
From there, I had to go into a mode where I had to scan a QR code of another Latitude SX Snow Helmet, and I was able to get them to pair by hitting this SENA button on the helmet itself. Soon, I could talk to someone thirty feet away as if they were right in front of me.
The range is about 1 kilometer, and I like the idea of having this Bluetooth feature, because I could also listen to some music. I'm not talking about just my personal music selection, but the SENA app could be used for setting up music presets.
Oh, and I haven't even mentioned the design of the SENA Latitude SX Snow Helmet, which is an ABS shell with an EPS liner. If you want to get in on this, the Latitude SX Snow Helmet is available on the SENA site for about $119.00.
Our Review of the SENA M1 Mountain Bike Helmet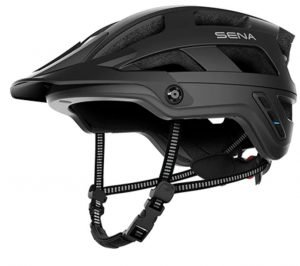 I discovered that the SENA Latatitude SX Snow Helmet has something similar in mind for mounting bikers. This would be the M1 Mountain Bike Helmet, and it can also connect with three other users.
Of course, it also does the awesome function of playing your music and stuff with the power of Bluetooth. Something that the M1 Mountain Bike Helmet has that the Latitude SX Snow Helmet doesn't have is these red lights on the back. Those read lights come in handy when biking at night, and they shine bright. I don't think they work as signal lights, but they are good for night flashes and day flashes.
The design is also pretty good, with a lot of the ventilation holes in all the right places. Oh hey, I may have mentioned this before, but you can take calls on this thing. It's perfect for talking and riding, man!
If you are interested in getting one of these M1 Mountain Bike Helmets for yourself, feel free to head on over to the SENA site for $139.00.