We've reviewed many a bluetooth speaker on the GeekChurch, and here is another from Creative Labs- a company we've been able to do some other reviews for lately. This speaker is called the Halo, and if you are an augophile or chromatophile, you might enjoy it greatly.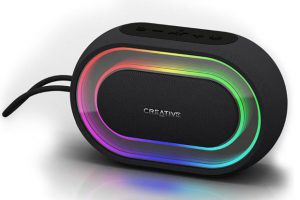 The Halo is a portable Bluetooth speaker- with dimensions of 6.9 x 2.8 x 4.3 inches and weighing a little over a pound. It also has a nice little carrying handle on the side.
The top has a rubberized panel with raised symbols to power it on, turn the volume up and down, take calls, and control the lights. The rest of the speaker is covered in a cloth material- with the exception of the mirror ring around the front, and the black plastic type ring on the back.
All-in-all, it has a pretty great look to it. Speaking of look- did I mention the mirror on the front? So if you are vain and want to get a look at yourself, you could. There is the downfall of fingerprints on the mirror surface, but what is really great is when you get the lights going on it, and it looks like you can see forever into the back.
If you have a favorite color, you can leave it on that particular color. You have the option of 16.8 million colors when you download the iOS or Android app.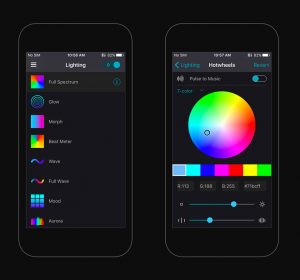 The app,Creative Xpectra, allows you to change the effects and colors shown on the speaker.
The light effects do tend to drain the battery- which is said to last 8 hours, but doesn't last nearly that long with the light show. Also, the volume will effect the battery life as well. If you want a long lasting light show (more than two hours), you might want to bring along the charging cable. A small USB cable for charging is included. It's only about a meter long, though.
The sound is about what you might expect for a small bluetooth speaker of this price. It's definitely not for the audiophiles, but it is a fun speaker, nonetheless, and a good sounding one for this price range, which is $69.99 on the Creative website.
Disclaimer- Creative sent us this product for free to review. No other sponsorship has been given in exchange for our unbiased and fair review.