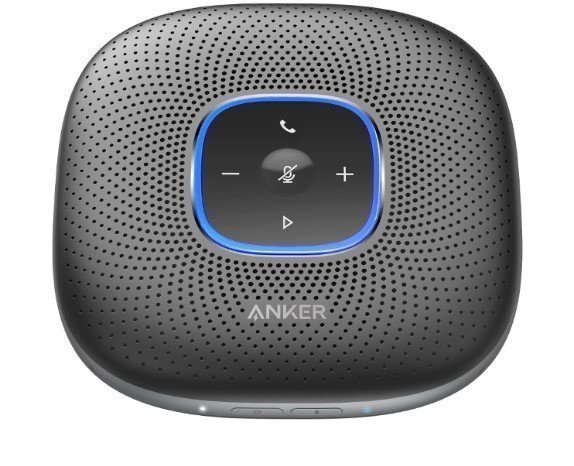 So, we have been doing a lot of reviews of Anker products, and the last ones were for vacuum cleaners under their other name of Eufy. Today, I am going to do a product review of a product that everyone needs now, a speakerphone, the PowerConf Bluetooth Speakerphone.
I know that one day this post will be dated as I write this, but most of us are at home due to COVID-19. Some of us are doing a lot of Zoom chats, not to mention all kinds of conference calls that businesses need to make. It makes sense for them to have an Anker PowerConf Bluetooth Speakerphone, which has 6 microphones arranged in a 360-degree array pick for rooms with up to 8 people (even though you shouldn't have that many in a room at this point).
I found that the PowerConf was very easy to pair via Bluetooth, and I just found out that I could just connect it via USB to USB-C. I set it up to play as a stereo speaker, even though it isn't made for specifically that.
No, it is made to hear others, and it has a DSP algorithm for echo cancellation up to 70 dB, de-reverberation, and it can reduce background noise by 20db. The controls are on the top with a blue light to indicate the volume, with a call button, volume up and down, mute, and play/pause.
The PowerConf has a 6700 mAh battery for a week's worth of calls. It also has a USB port in case you want to charge a mobile device.
I forgot to mention that the PowerConf comes with a case, and it can be purchased for $129.99 on the Anker site.