We've done a lot of phone case reviews from the LifeProof company, like the FRĒ but LifeProof is branching out into things like "WaterProof, DirtProof, SnowProof and DropProof" Bluetooth speakers. The one we're reviewing today is called the Aquaphonics AQ10.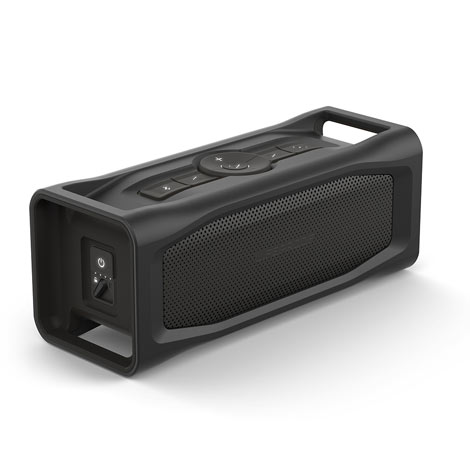 AQ10 Specs
This Bluetooth speaker is 8.5 inches long, about 3 1/4 inches tall and wide, and weighs about 27 ounces. This rugged, portable speaker is great to take to the beach. This one is the middle size of the two speakers offered by LifeProof. You can buy it in this basic black color, or you can jazz it up with the Laguna Clay Grey color- which is a grey speaker with green accents. An AC 12V/2A power adapter is included for charging. It probably would have been better to have a USB charging option. This is something many have found strange. You can use the 13 hours of battery life to charge your phone through a USB out port, but it doesn't charge very fast.
Other Details
As you can see, the buttons to operate the speaker are extremely tactile, making it easy to use the speaker for controlling your music from the speaker.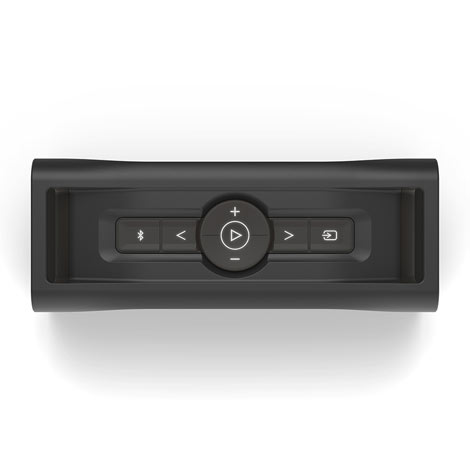 Another button to power on the speaker and a switch to lock controls, plus LED lights that indicate how much power is left in the speaker are on the one side, while the other side hosts the charging port, a 3.5mm aux in port, and a USB port hidden under a protective waterproof flap.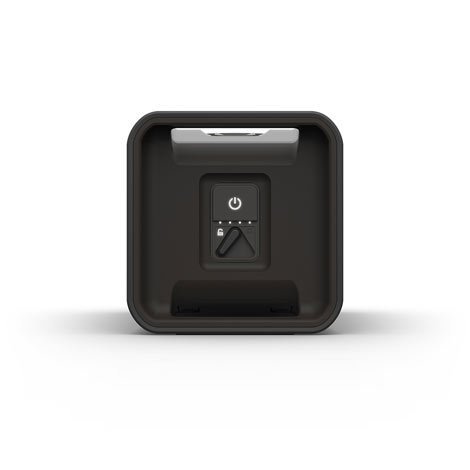 The bottom of the speaker has a dry box that's small enough to hold some cash, credit cards, and other small items. It also contains a USB power port and 3.5mm auxiliary in port. The dry box is too small for a cell phone on this model. If you had an old iPod Nano, you could plug that in and play it inside the speaker maybe, with a small enough cord. Again, if you want to store your phone inside your speaker, you better get the bigger size.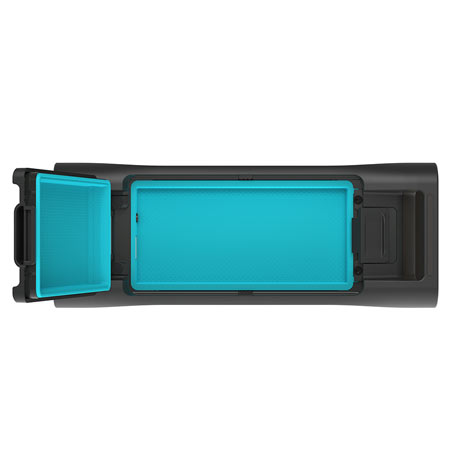 Another great feature is that this speaker floats. It has a IP67 rating, which means it can be submersed for 30 minutes at 1 meter. Like the LifeProof cases, it stands up against dirt, dust and snow, and can be dropped from close to 4 feet and survive.
 Sound
So how does this speaker sound? Well, the sound quality has been a big complaint for reviewers. This device is definitely not for true audiophiles. Common complaint is lack of bass. The Bluetooth range is decent, so go ahead and walk through your house with your device. You should still stay attached. You can also answer phone calls on this speaker.
Buying the AQ10
If you want the AQ10, it comes with a price tag of about $200 on the Lifeproof site. We can suggest that those looking for a highly durable, waterproof Bluetooth speaker might go for this one if waterproofing is what you desire. The AQ10 is available at Best Buy stores, and you can also buy online.
This speaker was provided free to us in exchange for our fair and unbiased review. No other compensation has been given.