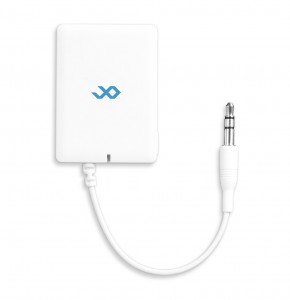 I have been seeing a product like this Bluetooth Wireless Music Receiver from Blueflame a lot. If you haven't heard of them, let me describe it. You plug some Bluetooth connected dongle into an Aux-in on speaker, and any tunes that are played on your smartphone will be wirelessly streamed on your speaker.
The Blueflame one is interesting enough, and I was able to try it out for myself. Connecting it was pretty simple, and yes, the music was streamed immediately.
Now, there were some minor changes I would make if I were to design this Bluetooth wireless receiver. You will not that the connector is male, but they could have removed the wire and make this female. Normally, Bluetooth wireless receivers have the female connector. I had a hard time using it with this, and had to have an adapter.
Also, the charging cable has a weird plug-in that I found to be…not the best. I would have preferred a micro USB.
Other than that, it worked just fine, which is what you are looking for in a Bluetooth Wireless Music Receiver. You can get it here for about $29.95.