iHome makes a lot of great audio products, and we've reviewed some in the past. This new and exciting product combines a way to hydrate with a Bluetooth speaker to listen to your music. The iBTB2 Aquio is something that would make a great Christmas gift for your work-out fan or beach-goer.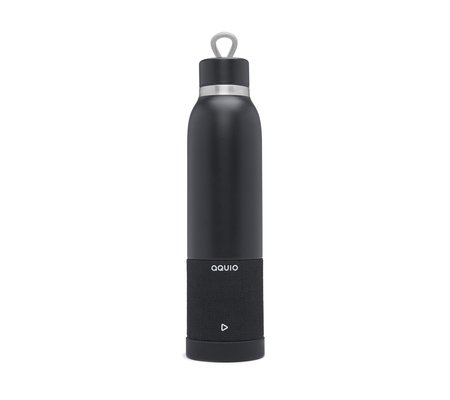 There are two separate parts:
The Aquio Bottle
The bottle itself is a great item. It keeps cold beverages cold for 24 hours. If you want to put coffee or soup in it, those liquids will stay warm for 14 hours. It has a great build, and is designed to fit most cup holders. It's only 16 ounces, though. Hopefully, they will get some demand for bigger water bottles. A little loop at the top allows for easy carrying. You could clip a carabiner to it and carry it hands free. You could also clip your keys to it. It's BPA free, and for easy cleaning, you can separate it from
The Aquio Speaker
For a little speaker of this size, there is excellent 360 sound. All the sound is controlled through your phone or Bluetooth device once they are paired. There is 6 hours of playtime after charging with the provided cable. The speaker has a waterproof rating of iP67, so you can feel safe taking it to the beach or by the pool.
Combine them together, or use them separately. Either way, you can find them for $69.99 and free shipping at their site. Different colors include Midnight(black), Seafoam (aqua blue), Merlot (maroon) and Blush (pink).
Thanks to iHome/Aquio for sending us a free product to review in exchange for our fair and unbiased analysis. No other compensation was given.