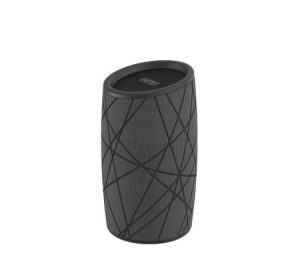 Well, today is my last review of an iHome product, unless I can somehow get more before year's end. This time, it is another Bluetooth speaker with the iBT77.
Of course, this Bluetooth speaker is a bit different than the last time with the iBT374. This one may not have that color accent, but it is a water resistant with an iP65 rating. I'm not certain how to describe the look of this particular speaker, but it seems to have a line around it which is apparently made for slip-resistance. Oh, it has a carrying strap.
It certainly has a lot of features for a Bluetooth speaker, such as it can double as a speakerphone. Also, it has that Melody voice powered music assistant, which allows you to play music from iHeartRadio, Spotify, and…yeah, I have talked about this before.
You should be able to purchase the iBT77 in black with black, black with blue, and black with red for about $49.99 on the iHome site.