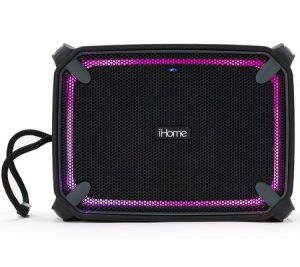 Now it is time for me to do another Bluetooth Speaker from iHome. For the record, the last time was the waterproof speaker iBT9 that I did at last year's "iHome for the Holidays". The iBT374 is different, and for a lot of good reasons.
I might as well start by talking about what is similar to other speakers. The iBT374 is iP67 rated so it is waterproof and dustproof. Of course that is practically a standard for Bluetooth speakers these days. What makes this particular one a whole lot of fun is that not only does this speaker float, but the iBT374 is framed with colors.
In this case, there are five color changing modes with multiple colors for some seriously wow-whee effects. It has fast color blend, slow color blend, your favorite color, a preset pulsing mode, or you can set a pulse to the music.
What is interesting is that this speaker, which is quite rugged, can be used with another speaker for some true stereo. Oh, by the way, it works with iHome's free Melody voice powered music assistant to play music from iHeartRadio, Spotify, and more.
So how is the music on this thing? Quite good, thanks to the passive subwoofer. Heck, it even can be used as a speakerphone. The only spec that I haven't given yet is the battery life, and it is good for eight hours.
Oh, I also forgot to give the price. It is available for $99.99 on the iHome site. By the way, if you are thinking that this is a great gift, then you would be right.