Jabra has been kind enough to send us several products to review recently. Back in November, we reviewed a pair of Jabra Elite 25e wireless earbuds, and today we get a chance to review a similar looking pair with a different purpose.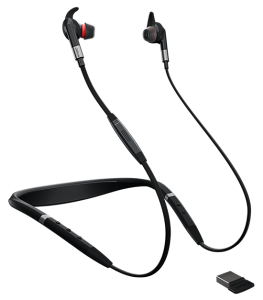 These wireless earbuds are the Jabra Evolve 75e, and they are designed with the professional in mind.
With 14 hours of battery life, and only two hours to charge, active noise cancellation, and a busy light that lets your co-workers know that you shouldn't be bothered during a call, these earbuds are optimal for the workplace environment.
With the Jabra Link 370- that little USB dongle showed in this picture, you can connect to your computer, and simultaneously be connected to Apple and Android smart devices. This means that you can listen to your music, and be ready to answer the next call that comes through as well.
You don't need to hear the phone to answer calls. The neck piece will vibrate when a call comes through. When you want to take a break from wearing these in your ears, magnets near the earbuds keep them hanging around your neck tangle free. But you don't have to take out your earbuds to hear the world around you. Simply holding down the ANC button, will allow noise to pass through, so you can be a part of the environment around you as well.
These professional wireless earbuds come at a professional price- at about $259.00. They are well worth the price, though, and a good investment for businesses. To find out more about this fantastic apparatus, including all the communication platforms these earbuds work with, head on over to the website here.
Jabra does not sponsor TheGeekChurch, but they did send us these earbuds to review for free in exchange for a fair and unbiased review.