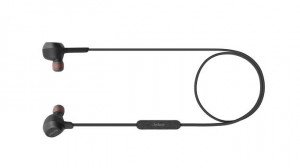 Yeah, at this point, there is no way I am going to give a negative review of a Jabra product. Their Bluetooth wireless products occupy my ear every day, and they have been in the business for a long time.
I'm not going to bother trying to describe the sound of the new Rox Wireless, because how am I supposed to do that in written form? I'll just tell you that it has the same in-ear monitors used by professional musicians for "full sound and strong bass". Yeah, I took that from the press release and website, but what else can I say.
The Rox Wireless has that very cool look so the wire goes around the back of the neck. This design really helps when you are not using them, as you can magnetically link them together to conserve power when not in use.
Other features of the Rox Wireless including some protection of dust and water, and it also has EarGels to keep it in your ears. There is also a Jabra Sound App for creating playlists, share music, and even updating the graphic equalizer.
You should be able to find more information about them here on the main website of Jabra, and it costs about $129.95.