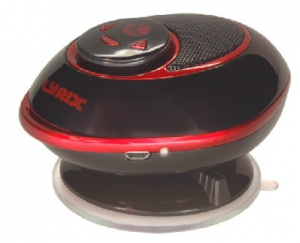 Yes, I have done a lot of reviews of Bluetooth Speakers, and after a while, I begin to forget what's what. I find a lot of things unique with the Lyrix Duo Bluetooth speaker from Digital Treasures.
The Lyrix Duo speaker has a suction cup that will allow it to affix to some smooth surfaces. It has a range of about 33 feet of working wireless range, and has a battery range of 4 hours.
What really makes the Lyrix Duo awesome is how the wireless receiver can be separated from the speaker itself, and then used with any speaker set with a 3.5 mm plug.
The Lyrix Duo is available in shade of red and blue, for about $50.