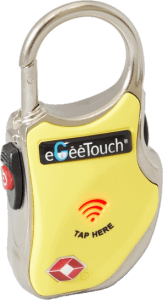 We really live in an age where everything just has to be "smart". I honestly believe that there will come a time when if an object can't connect to a smartphone or tablet via Bluetooth or NFC, it will be classified as "useless". It seems pretty obvious that the padlock will become smart, and we already reviewed the Master Lock last year. For those of you who want to have some kind of padlock when you are traveling, then you should consider the eGeeTouch TSA Smart Travel Lock.
This is essentially one of those padlocks, but without any combination for you to forget. Instead, you just give it a gentle tap on the eGeeTouch lock with an eGee Touch NFC tag or a Bluetooth device. As expected, there is an eGeeTouch App that is good for Apple or Android smartphones and tablets.
The set-up is easy enough, and it can use IDs to identify each paired device. By the way, you can set up the App to deny access of an old ID in an event of losing a mobile phone or a tag. Speaking of a lost device, there is a proximity sensor in the event of unintentionally leaving your bags behind.
By the way, the eGeeTouch is TSA-accepted, which means that it can bypass TSA authorized personnel at your airport. It is also rated for IP43 for protection of water splash.
In case you are worried about the battery, it is protected so someone can steal it and pick the lock. The battery is good for two years, and that is based on 3 time locking/unlocking. If you are worried about it running out, you can use the battery backup USB.
You should be able to get the eGee TSA Smart Travel Padlock on sites like Amazon for about $39.99 on sites like Amazon. You can find out more information about it on the eGeeTouch site, but you can't purchase it from there.