We're reviewing another product from JBL. This product doesn't have cool flashing lights, but it can stand on its own features. This is the JBL Link 300, which is a voice activated speaker similar to Google Home products.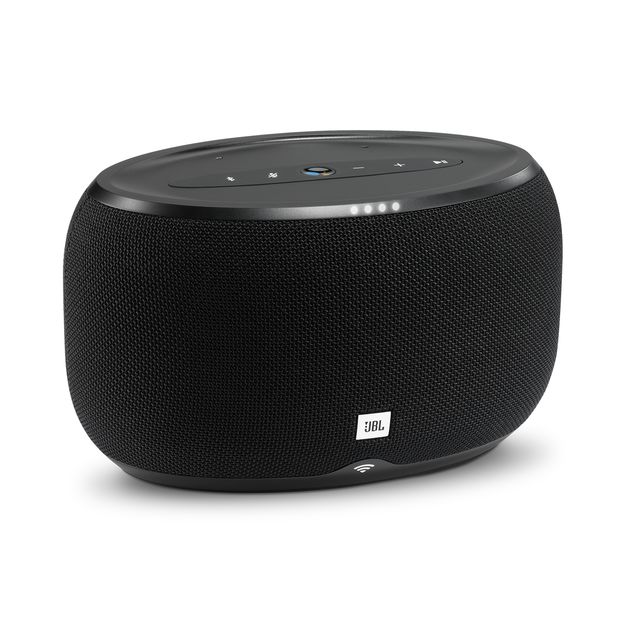 What Does it Do?
This is an alternative to Google Home Max- comparative in size, but without the large price tag. It pairs with Google Assistant to answer all your "Ok Google" questions. It has Chromecast built in, so you can stream music and you can also pair it with your phone with Bluetooth to stream music from your phone as well. It has nice sound that you would expect a JBL speaker of this size to have.
What it Doesn't Do
It doesn't do hands-free calling like Google Home products do. I can't ask Google to dial friends and family. It's not portable, either. It stays plugged in on your desk or coffee table- much like Amazon Echo and Google Home products. There is a smaller JBL Link 10 that is waterproof, rugged and portable, but we'll do a review of that another time if JBL sends us one to review.
Design
There aren't a lot of bells and whistles to this speaker. The dimensions are 9.3 x 5.4 x 6.0 inches. Weight is about three and a half pounds. The black matte plastic casing covers the top and bottom, and the cloth speaker covering surrounds front and back with the exception of the bass subwoofer that can really get thumpin'! The buttons on the top are the basic ones you would find on a JBL speaker. The one in the middle is the Google Home Assistant button in case you would rather tap it than talk to it.
There are two mics on top that can pick up your voice from far away. If you have music going, you might have to yell to make sure your voice is picked up, but otherwise, it's pretty powerful.
Cost
So what it all comes down to is cost. Currently, the JBL Link 300 is $199– down from $249.95. That's a pretty great value if you are looking to save money compared to the $400 Google Home Max.
Disclaimer- This was another free review product sent to us courtesy of JBL. No compensation was given to us for this fair and unbiased review.