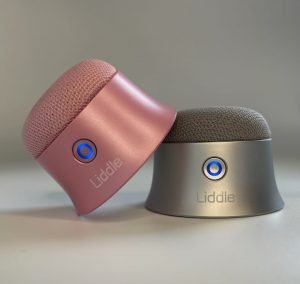 I almost hesitate to call this a Liddle Speaker, as this World's First magnetic portable speaker is capable of some pretty big sound. Much of it is related to its enhanced bass, which I can only assume is kind of trade secret.
You can see that the Liddle Speaker has a shape that I will describe as slightly bellish, and it is made to attach onto the back of a smartphone, magnetically. If you don't have a MagSafe-compatible iPhone, don't worry, there is this metal ring included so you can stick it on the back of your smartphone, and then stick on the Liddle Speaker. Oh, you need to pair it with Bluetooth.
Once it is stuck there, you can lean your smartphone back and have some good surround sound for whatever videos that you want to watch. I will have to say that the sound is definitely great, and I can't help but like it.
I'm not certain that the video of this can truly show off the sound, but I hope it is a decent demonstration. If you want it, it is available in gray or pink for $29.99 on the Liddle Speaker site.