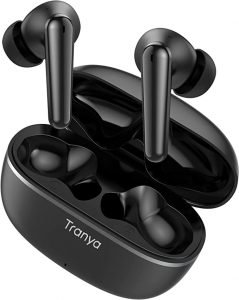 So, I just love reviewing wireless earbuds, and man, I am pretty pretty pleased to review the Tranya T30 True Wireless Earbuds.
So, when I opened these things, I was able to use them in seconds. Occasionally, I have had trouble pairing with wireless earbuds before, but as soon as I pulled from the case, I just opened up the Bluetooth Settings on my phone and I was ready to go.
I had some really great sound coming from them, and I think it is because of the dual effects mode which has a normal and bass boost. I probably should have mentioned that the Tranya T30 has 6mm High-Intensity Magnetic Driver.
So yes, they have some good sound, and they also include an ultra low-latency gaming mode. I should probably mention that they are really super cool for calls with an ultra-high call quality design with 4 flippin' mics! I really also enjoy the touch controls here.
So, I guess it comes down to the charging time. You can get 8 hours on a simple charge, and then there is 40 hours worth of charge with the case. By the way, I forgot to mention that they are water and sweat resistant at iPX7 rating.
You should be able to purchase the Tranya T30 True Wireless Earbuds for about $69.99 on the Tranya site.