These headphones that we are about to review in our second Plantronics review appear very similar to the ones from Jabra we reviewed a couple of months ago. We'll take a look at this pair on their own merit, though. This Bluetooth® neckband headset with earbuds, the VOYAGER 6200 UC will give the office professional a great experience when answering calls and listening to music.
What you get with the Plantronics VOYAGER 6200 UC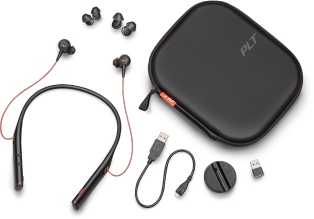 photo credit-Plantronics
When you open the box, the first thing you'll see is the nice zippered case that houses the headset.  Attached on the outside is the little USB dongle that connects you when you are using Skype or another online conferencing.  Three different sizes of earbuds to ensure a good fit are also included in the pocket. A micro USB cord and a small circular charging dock to charge the headset comes stored in the pouch as well.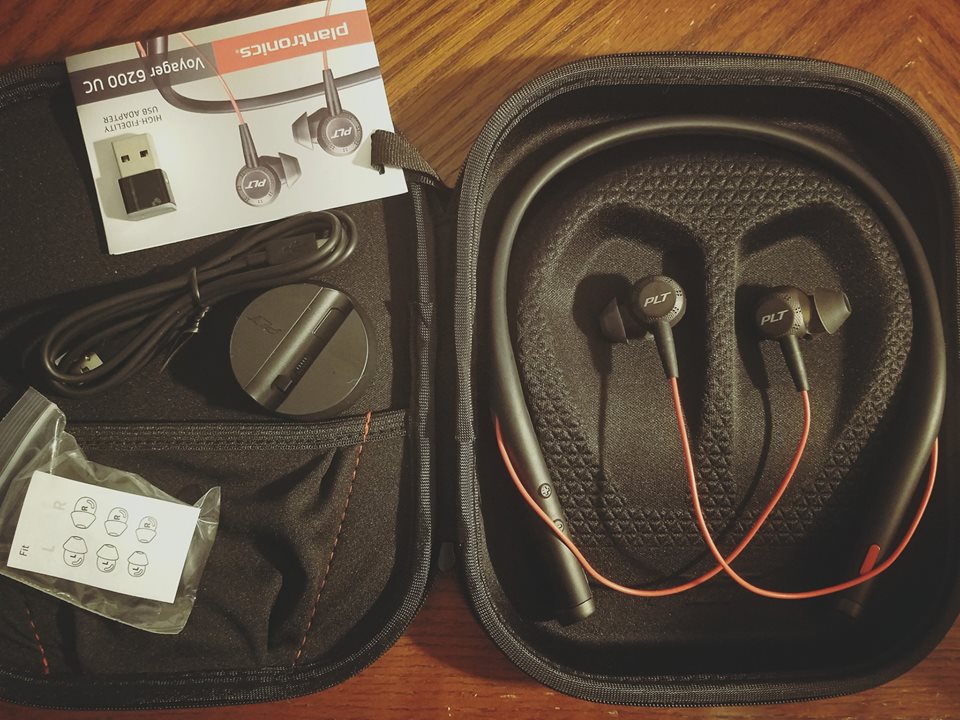 Plantronics Voyager 6200 UC Features
Just like the Plantronics BackBeat FIT we reviewed yesterday, the earbuds come in an oval shape for a passive noise cancelling feature. The battery charges within an hour and a half to provide 16 hours of listen time, 9 hours of talk time, and 14 days of standby time. That's a couple more hours than the Jabra ones we reviewed back in March.
The Bluetooth® 4.1 connection is a strong one that will allow the user to take a 98 ft walk around the office if they need to. It's lightweight at 2 oz, so no fatigue from wearing them.
Plantronics is looking out for your hearing with SoundGuard® DIGITAL, which protects against sound levels above 118dBA. There is an anti-startle feature during calls which detects and eliminates any large sudden increase in signal level. Also, there is something called "Time-Weighted Average" that prevents average daily noise exposure from exceeding 85dBA.
Active Noise Cancelling (ANC) is provided on the neckband. Dynamic Mute will let you know if you are talking while it's muted, so you aren't talking on and on while no one is listening. Speaking of talking, the boomless mics pick up your voice well, and will block out other background noise. You'll know to answer a call when your neckband vibrates, too.
Buying Options for the Plantronics Voyager 6200 UC
If you decide that you can't live without these, you have the option to get them in black, like what we have received to review, or there is the "Sand" color which is a beige-ish white color. Plantronics has them listed for $299.95 on their site, which is a bit more than the Jabra pair we reviewed, but I've seen them for less if you shop around.
Disclaimer- We received these for free to review in exchange for our honest and unbiased opinion.