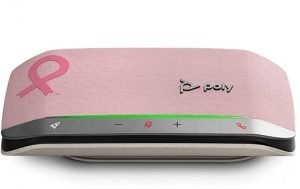 So, this is my second time that I have reviewed some products from Poly, and the first was that P5 Professional Webcam. This time, I had a good time to review the Poly Sync 20 Personal USB/Bluetooth Smart Speakerphone.
So, I had an interesting time pairing the speaker, as in, it was very quick. All I had to do is hold down the Bluetooth button and set up my phone, and bamm! There's my sound, and it works really super-well as a Bluetooth Speaker.
So, this guy is a USB-charging device, and it is good for 20 hours of battery life. By the way, the Poly Sync 20 has an extra USB-A port made for charging any USB device that you want. I should tell you that the charging cord is a lot longer than you might suspect.
So I suppose that it would be great for doing conference calls, and I am pleased to check this out for myself. You should be able to find a good demonstration on the video below.
You might notice that this guy has a pink color, and it is because the company will kick in $10 to the National Breast Cancer Foundation from Oct. 1st 2022 through September 30th, 2023.
If this is something that you or your business needs, you can purchase it on the Poly website for about $119.95.