Look
We've recently seemed to be doing some different reviews of color changing speakers like the Halo and this one by iHome. Those were nice, but the Pulse 3 by JBL will blow those speakers out of the water.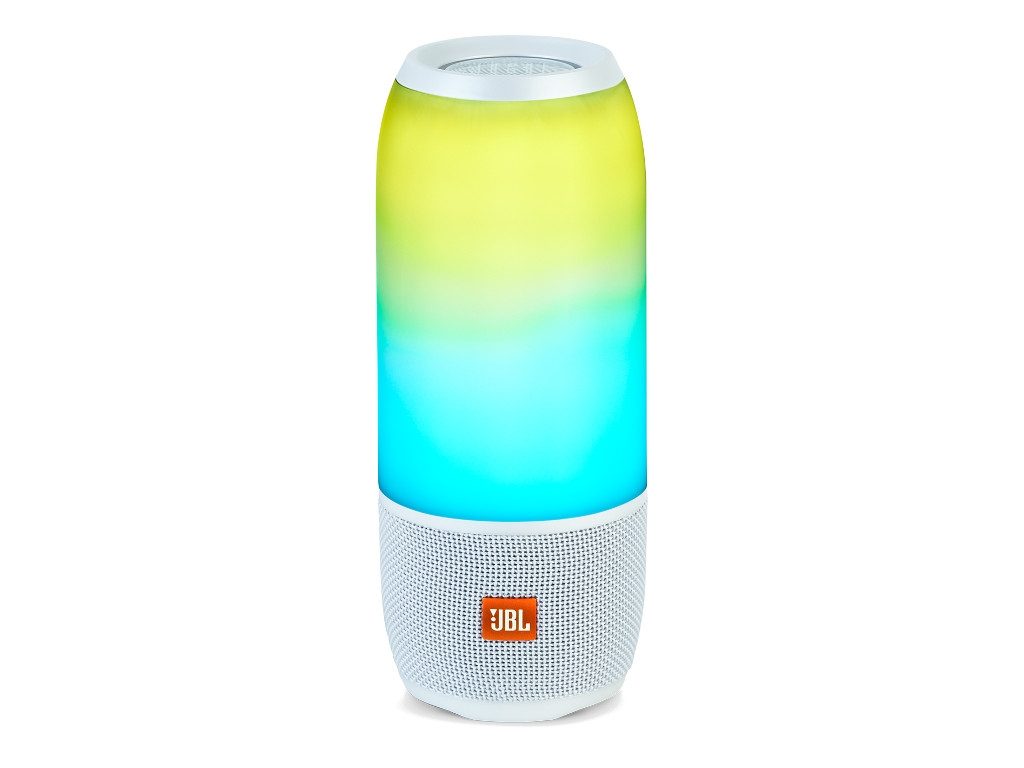 Speaking of water, the Pulse 3 is waterproof with an IPX 7. This is great if you want to put it in your bathtub and jam out with a light show in the tub with you! As long as it's about 3 ft. deep. The underwater sound isn't that great, of course. Maybe you want to take it in the shower. That might be better.
This upgrade from the JBL Pulse 2 has a sleek plastic design. This is opposed to the mesh design of its predecessor. This makes the light show more radiant and much more awe- inducing.
The speaker comes in colors of white(as shown), or black. With the plastic casing, there could probably be a chance of scratches. Fingerprints are visible when the device is off, but not so much when the lights are turned on. They can be easily cleaned off, though.
The size is about two 12 oz. soda cans stacked on top of each other. A little wider than them. It weighs in at about 2 pounds. 8.78 x 3.62 x 3.62 inches are the dimensions.
Sound
The 360 (well,almost 360) sound at the base of the speaker is pretty decent for a portable Bluetooth speaker. There are 2 passive radiators- one on each end. I don't know how much they contribute to the sound, but it is kind of fun to watch the water fly off or bounce around when it is submerged.
Turning the sound up too high will lead to distortion, but you can turn it up enough for the sound to fill a room. If you want even more sound, you can use the JBL Connect to pair a couple of JBL devices. You can even pair up to 100 devices if you had them. That could make for a pretty amazing party.
Light Show
This really would be the reason for buying a JBL Pulse 3. After downloading the app, you can really make the experience personalized. Cycling through different features like jet, explosion, equaliser, rave, and rainbow, you can use the app to add your own colors. This feature used to be directly on the Pulse 2, but for some reason they took it off.
Other Great Features
The Pulse 3 fully charges with the included mini USB cable in about 5 hours. 12 hours is the general battery life, but will most likely go faster if played at a loud volume. Turning off the lights could save battery life as well, but who wants to do that? If you need more battery, bring an extra power pack.
The app can work with Siri and Google Assistant as well, and the speaker can be used as a speakerphone. You can have fun talking to your loved ones while watching a light party.
I think it's safe to say, this speaker is a good buy, but has a higher price tag than others at $199.95
We received a Pulse 3 speaker to review at no charge in exchange for our fair and unbiased analysis.