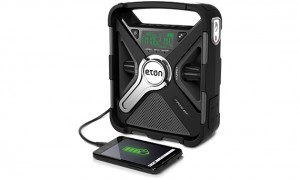 Outdoor lovers will appreciate this item I am reviewing now- especially those who might need to charge their phones or tablets while outdoors. This would also be useful in case of a storm when the power has been knocked out. Today I'm talking about Etón's FRX5-BT Emergency Weather Radio with Bluetooth®. 
In the past, we reviewed a similar radio from Etón- the SolarLink FR360.  I can't find the review we did for that, but I'll say that it worked okay for us, and we have taken it camping. The cell phone charger on it is not reliable unless you want to crank it for a while, and then you might only get a few minutes to call. This new FRX5, though, is a vast improvement.
For example, the FRX5 has a big solar panel that covers the whole back of the device, instead of the small panel on top of the handle. Where the solar panel was on the SolarLink handle, you now have an ambient light panel- in addition to the LED flashlight and emergency beacon on the side. After you turn off the flashlight or light panel, the strips around them will glow. The charging of cell phones/tablets seems to work much better on the FRX5.  I didn't have to crank anything to charge my phone this time.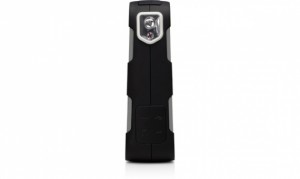 This product has Bluetooth capabilities in addition to being able to play tunes off the radio. In addition, you can get NOAA weather alerts and S.A.M.E. alerts.
There are a few ways of charging- with the solar panel on the back, by turning the crank, or charging through the included USB cable. The first two methods are going to come in really handy in situations where the power is out, or you are out camping. Cranking won't give you much time for your effort, so hopefully you will have some sun to help out.  Or you can make sure it's fully charged before you go. There is a handy little display on the front that will show you how much battery it has.
With this emergency radio being splashproof (not waterproof), and drop-proof from a height of 3.3 ft (depending on drop situations according to the website), I think this would make a great addition to camping supplies, and emergency prep kits.
You can buy it for $99.99 on Amazon.com.