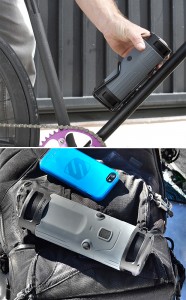 What you are seeing here is the boomBOTTLE from Scosche. Just so you know, this is not a speaker that you can drink out of. At least not yet, you can use the Dubstein for that.
It is a Bluetooth speaker that is designed to fit perfectly in that place for a waterbottle on your bike. The boomBOTTLE is a set of 40 mm speakers with a passive subwoofer, and the music will spread in 360 degrees all around you.
In short, it is a boom box for a bike, and it is designed for IPX weatherproof construction. This means you don't have to worry too much about the rain. It's Bluetooth range is about 33 feet, and you can connect your phone with a wire if you like.
You should see it available sometime in May for a price of $149.99 in shades of green, yellow, pink, and blue.