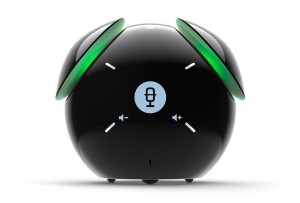 Some of you might remember when we reported on Amazon's Echo speaker, and it looks like Sony wants to get on this new market with their BSP60.
The Sony BSP60 is a Smart Bluetooth Speaker that becomes your personal assistant when it is paired with an Android phone. From there, you can ask it many questions like the weather or daily schedule. By the way, it is possible to touch your phone or tablet to the BSP60 and have an instant conference call.
By the way, there is a smart alarm clock that you can set verbally, so I am told. You might notice those weird things that pop up on top, and I think those are supposed to be like the top of an old-school alarm clock.
Now, here's something really interesting about it: it is ball shaped for a reason. I am told that it can roll around on a flat surface, so it can literally follow around the room. Yeah, this thing really is like an assistant.
I wonder if this technology will get any better, and everyone will have a personal digital assistant following them around, constantly getting underfoot. Yeah, the future is an amazing place. Speaking of the future, the Sony BSP60 will be available sometime in Q2 2015 for a cost of $355.