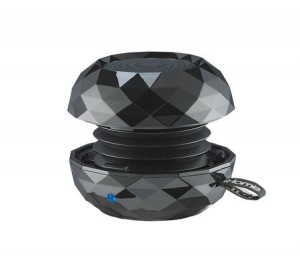 I'll be reviewing three iHome products this week (at least) and I will start with the iBT65, a wireless rechargeable speaker that I have seen its type before. Someone needs to get around to naming these things that are so darn similar.
In the case of the wireless rechargeable speaker, it has this expandable speaker that can collapsible cup itself. Just do a search of "Collapsible Cup" and you'll see what looks like this iBT65 speaker here. I didn't really see a difference in the sound when it was expanded or not, but it is wireless.
I guess the Bluetooth part of the wireless name is pretty good working for iPad, iPhone, or other Android type of product. You can also do this direct line-in, but it is kind of weird how it hooks up. I actually had to look at the instructions to figure it out.
If you like it, you can get it in black, red, or silver for $34.99 on the iHome site.