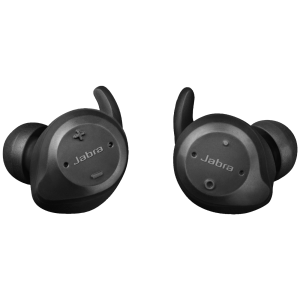 Normally, I don't do a review of a product twice, but I believe that the Jabra Elite Sport has a new version of itself different from my last review of the product. So let us talk about it.
I'll start by getting the obvious out of the way and explain that these are wireless earbuds. That means that each dinky one has a speaker inside, and they charge by putting them in this little box. We've been over this ground before, honestly.
Let's talk about what is new, and that would be the battery. It would appear that it is good for 50 percent more, which means that you can have 4.5 hours of play time for about 13.5 hours of power. I did the math from the last version, and it had 9 hours of power, so yeah, that is a 50 percent improvement. Not bad.
I am not certain whether this new version has had any redesign of its basic shape, but they still have the superior fit that is secure. Now, the Elite Sport is made to resist some serious sweat, so it is good that you can count on that with a 3-year warranty against sweat damage. That, I have no idea if it is new or not.
Oh, let's talk about getting fit, as the Jabra Elite Sport has an integrated fitness app also known as Jabra Sport Life. It uses the in-ear precision hear rate monitor to be your coach, in real-time. I could probably write a separate article on that, but I will leave that to a full-time athlete.
The one thing that has changed is the price. They used to be $249.99, but now they can be purchased on the Jabra site for about $199.99.