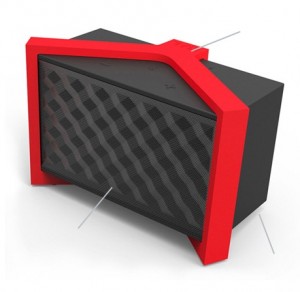 I have reviewed TYLT products in the past, and I described them as the accessories that you are looking for. This Tunz is another accessory that we should put under the category of "the Bluetooth Speaker that you are looking for".
The Tunz comes with two 3-watt drivers as well as a passive radiator for superior base quality. When I tried it out, I was able to feel a pulse of wind on my hand when it put it in front. One thing that helps with the sound is the surface vibration absorbing band that cancel surface-to-speaker rattle, and it comes with red, blue, or black.
The 2800 mAh battery plays music up to 20 hours at 50 percent volume. This battery is so good, it has a 1 Amp output USB port in the back so you can charge a mobile device while you listen to music, or take on a conversation due to the noise canceling microphone.
If you want to get in on this, then I will say that it is a swell speaker. Feel free to go to the TYLT website and pay $149.99 for it.