World of Watersports (WOW) has come out with a speaker for those who like to live on the water.The company is known for making inflatable products for the water, but they're throwing their hat into the speaker ring. We've been given the opportunity to try this baby out.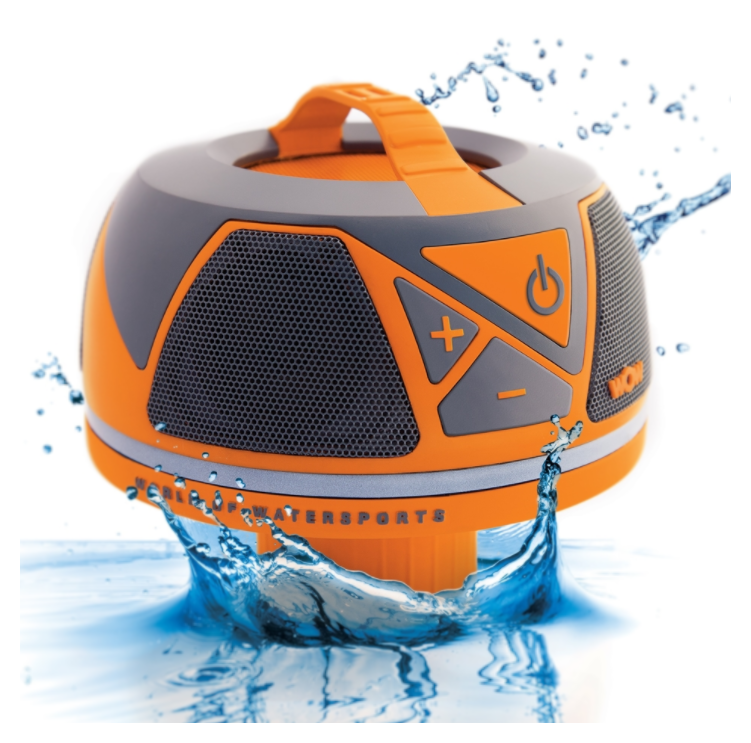 WOW-SOUND Speaker Features
The first thing you are going to notice about the WOW-SOUND is the size. This thing is 9.8 x 9.8 x 8.8 inches in dimension, and about five pounds. I'm thinking it might have something to do with the battery life- which depending on the use, could last up to 50 hours. It does have four 2 inch Neodymium speakers in a 360 degree fashion, and also a 4 inch passive bass on top under the handle.
You wouldn't expect this thing to be able to float, but it does! There's also the 360 led white light around the bottom that has 3 different brightness settings.
What's in the WOW-SOUND Box?
You get an inflatable holder for your speaker. The speaker is made to float, but it doesn't sit directly on top of the water. A little submersion of the speakers distorts the sound a little, so the floaty helps.
You also get a floating, waterproof phone holder. I think that was brilliant to include. Gotta keep the device that holds your tunes dry and safe as well. A charging cord is included. Keep this thing in a safe place. It's not the usual micro- USB charger, so you don't want to let this thing wander away.
And you also get a manual- though this speaker is pretty self-explanatory and sets up easily right out of the box.
The Good and the Bad of the WOW-SOUND
I think this speaker has some great sound. I listened to some Pentatonix on it, and the music was crisp and clean with great bass. There have been complaints that the speaker doesn't get that loud, but it filled up my house.
If you are in a large outdoor area, far away from your speaker, maybe you'd like it to be louder. It CAN be paired with another WOW speaker, but that could get spendy.
The speaker is meant to be able to fit in a cup holder, but I think with the circumference of this thing that it might not make a good fit for cup holders. That's not really the end of the world, though.
With the length of the battery life, I would like to see the ability for this speaker to charge other devices. There's not an option to do so, however. All- around, I do think this is a great product for the outdoors- at the beach or the pool. You can get it for $206.77 on Amazon. 
Thanks to WOW for sending us this product to review. Our opinion is our own, and has not been influenced in any way by the company.