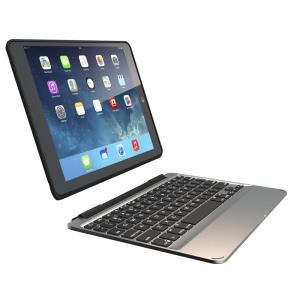 I have reviewed a lot of keyboards in the past with ZAGG, and I can honestly say that if you have reviewed one, you haven't reviewed them all. ZAGG makes a lot of keyboards, and I was glad to review the ZAGG Slim Book for the iPad Air.
So what makes this one different? Well, it has a case that you can lock onto the iPad Air, and then you lock it on the side of the Bluetooth keyboard. It works with magnets, and then adjust the angle to about 135 degrees, just like a laptop. The advantage of having this magnetic hinge is you can turn the iPad Air around for video mode. Oh, you can close up this case for extra protection of the keyboard, and use the tablet's touchscreen with the keyboard handy.
So yeah, I would say that the Slim Book for the iPad Air is quite a good deal. Especially when you can use it for up to two years in between charges.
If this is something that you like, then you should be able to get it on the ZAGG site for about $129.99 here.