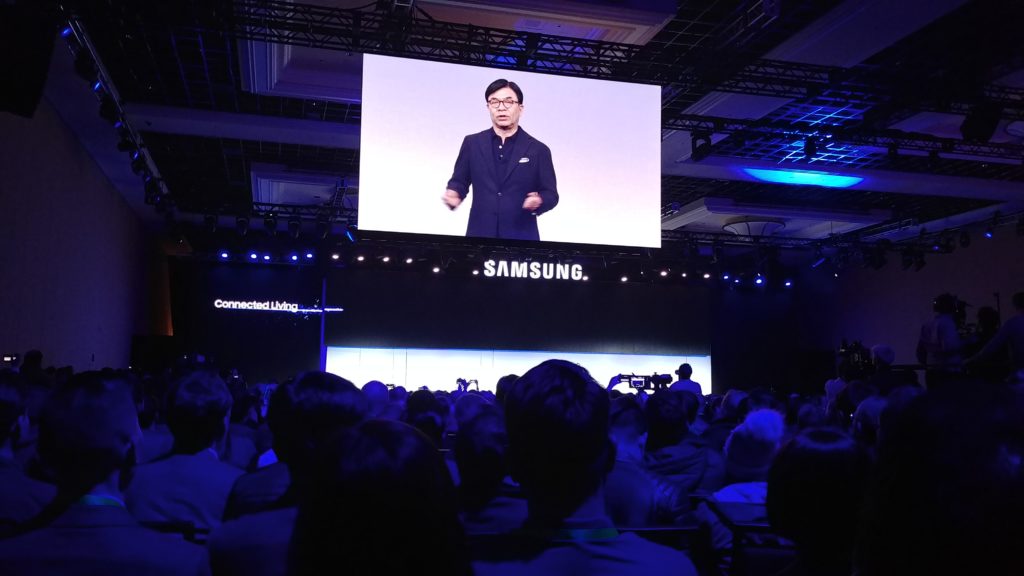 Although CES 2019 officially starts today, the Monday is kind of a "press day" devoted to many of the biggest companies really putting their best foot forward in press conferences. There are often a few press conferences on the hour, but Samsung, they have the entire hour of 2:00. You can see that I was able to get myself in the back row on this one.
H.S. Kim, the president and CEO of Samsung International, took to the stage and wasted no time talking about the big things coming this year like 5G, and how the company will have the first 5G phone release dates.
He then turned the stage over to Vice President Yoon Lee, who was prominently on stage for most of the show along with a revolving door of different speakers. Yoon stated that over 71 percent of all households have a Samsung device in them, with a quarter of that having three Samsung devices.
Then it was all about the 8K as the new displays were unveiled, with an emphasis on Micro LED as will as content. These guys were really excited at what Bixby could do, and they constantly conversed with it to see the best shows to watch.
Bixby was also in focus as they company talked of their refrigerator family hub, something that they were very proud of. I have to admit, it is something that we at The Geek Church want to give a try. That, and their new front-loading and top-loading washers, that will literally send you a text message when your clothes are done. Also, stoves that will preheat when you ask them to. Yeah, Connectivity is a huge thing.
As far as mobile is concerned, Samsung unveiled their newest Notebook 9 Pro, which comes with a Notebook 9 Pen. They also had the Notebook Odyssey for gamers.
After a brief mention of connected cars, they did this "one more thing" where they unveiled their robot or Bot Care. You can see his cute self here and know that it will be loving you in the year 2019, along with Samsung.