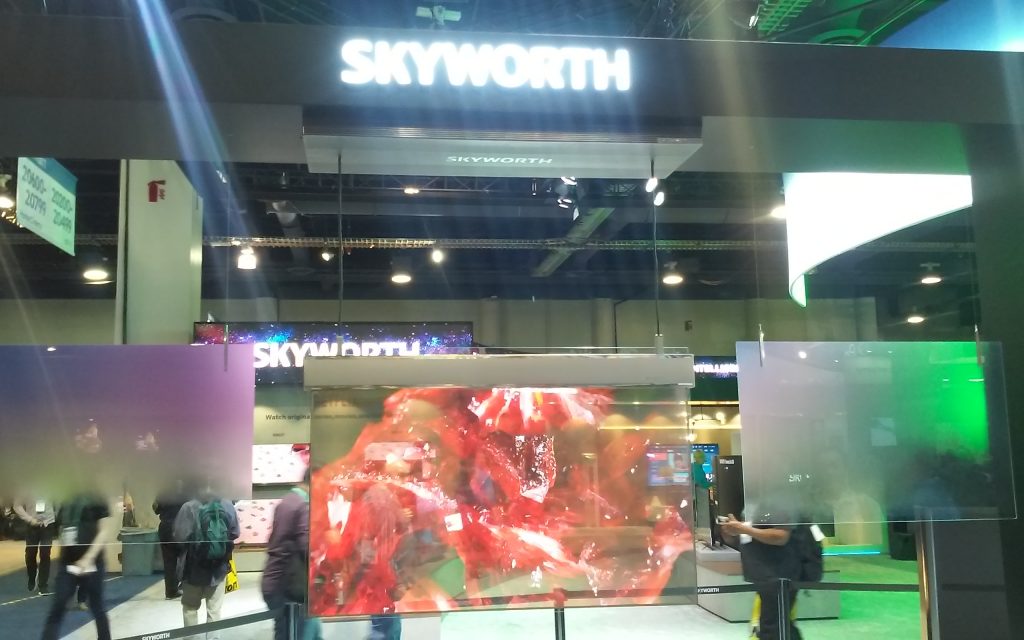 I realize that I probably should do a Day 6 for CEs 2020, but honestly, I am really getting a feeling that no one is even interested in CES by the time it hits CES Wednesday. I have been to over 10 CES Conventions, and I have memories of it being completely packed. This was not the case this year, and this does not bode well on CES in general.
I was at South Hall yesterday, and I had a chance to see a lot of great tech companies. I gave and received a lot of business cards, and I look forward to another year of reviewing products.
I always look to see what kinds of trends are happening, and this is what I have found to be the "take-away" this year.
1. Every display will be pliable and foldable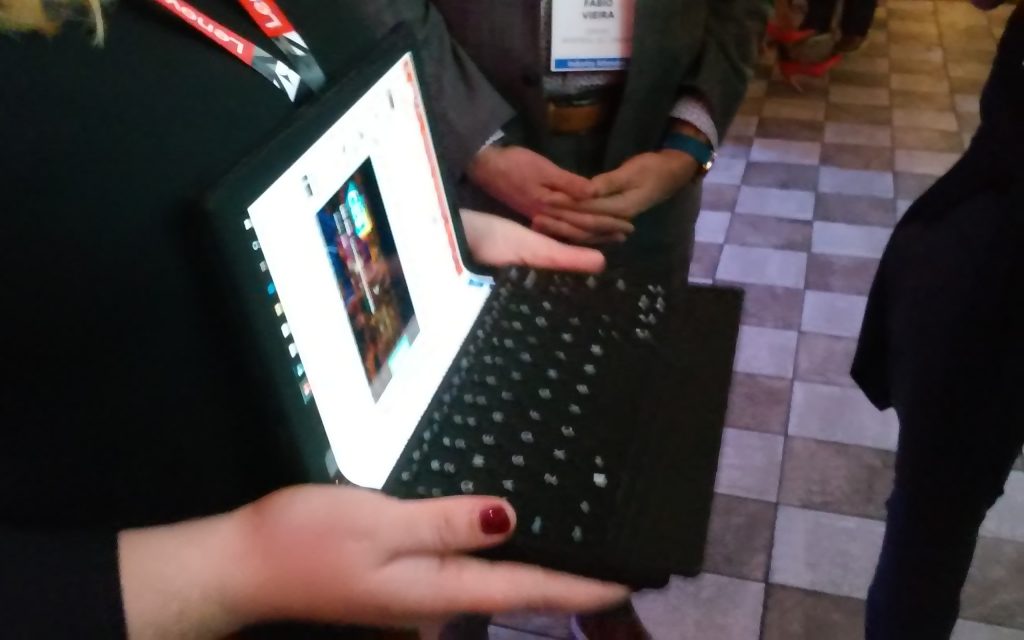 I mentioned how Lenovo has a computer with a flexible touchscreen, and how seamless it is. They also have a new RAZR phone with similar touchscreen flexibility. Dell is working on some kind of flexible sreen device, but it doesn't have a release date at the time of this writing. Samsung was also proud of its folding phone, and I heard that LG has this display that can retract itself into its stand.
So what does this mean? I predict and age where we can put our big screens in our pocket with the power of folding. So you might have a smartphone in your pocket with a 5 inch screen, but with a few folds, you could have a 32-inch display.
I saw this coming quite a while ago, and I felt that whoever invented the flexible display could really re-write our information age, and it is coming to pass. You know how your clamshell phone look slike a dinosaur now? It would appear that the new RAZR with its folding touchscreen wants to make something old new again, but how long before our typical one touchscreen model seems archaic?
2. It's 8K all the way.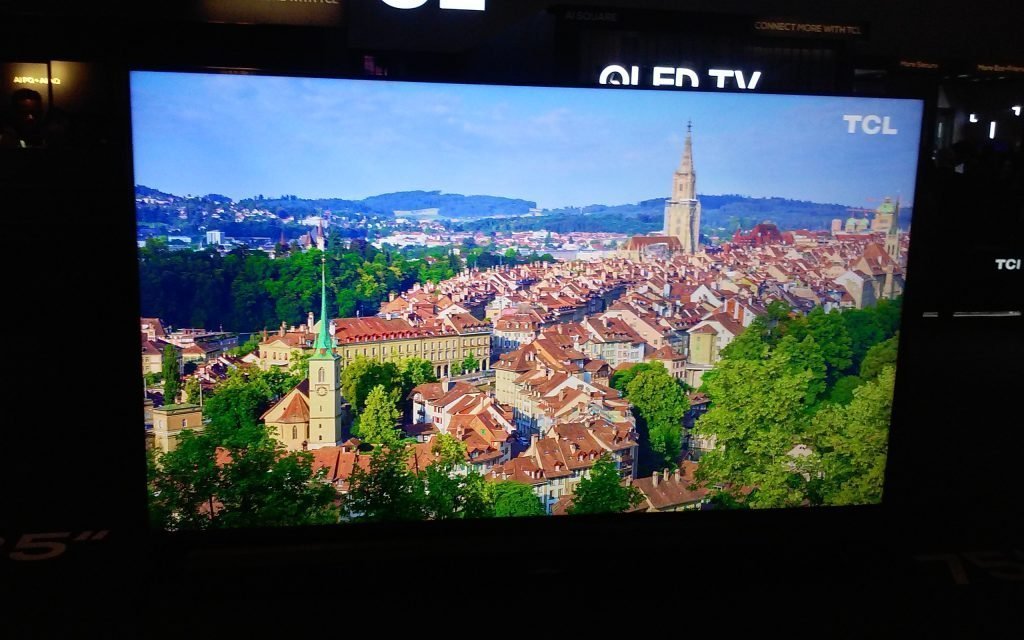 It's hard to believe that its been a few years since 4K became the new standard of display, and it took a while before the price finally dropped. It's very clear that 8K is going to be the new standard.
I have heard that 8K has a resolution that is 4 times better than 4K. I have absolutely no idea how the math works on that, but maybe there is some kind of exponential growth that I don't know about.
At what point are we making displays that produce such great resolution that our eyes can't even process it? At that point, we will need bionic eyes.
3. A.I. causes us to thinking our humanity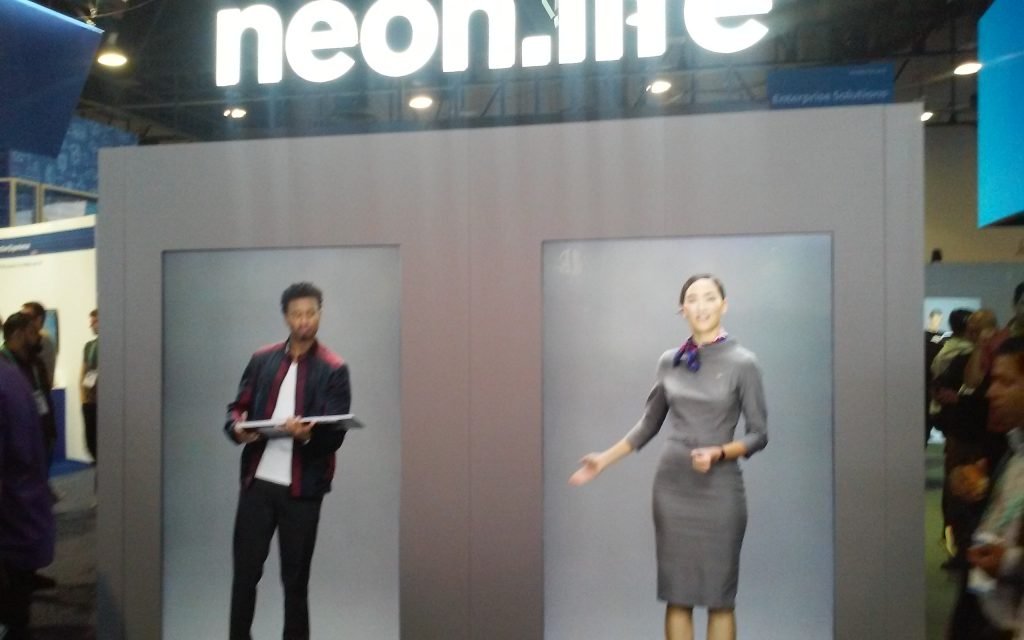 I mentioned before about the after-parties that I attend, with the trifecta being (in this order) CES Unveiled, Pepcom, and Showstoppers. I saw at two out of these shows a company called Neon, and it had a lot of real estate on the showfloor at Central Hall.
When I passed the Neon booth, I saw these giant screens that were the size of full-length mirrors. These screens had people on them just talking, as if you were right in front of them. I found someone with the company and asked them what in the world this company did.
I was dumbfounded by the answer. This company makes 3D computer models of people to be used like a digital assistant. Just imagine if you could see Siri or Alexa right in front of you, and could interact with them like you could interact with someone on a really large version of Facetime.
I was both amazed and slighly horrified at this tech. Imagine the next time you go to McDonalds, and there is this screen here to take your order. Now imagine that you could choose what kind of personality and looks of this person behind the screen.
You better believe that I am going to follow-up on Neon, but I had another incident which made me re-think A.I.. When I attended the Made in China exhibit, a woman took to the podium and then talked about how technology affects humanity. It had the feeling like some street corner evangelist, and I wasn't certain what to make of it.
4. Sex-tech is going mainstream
This website had never reported on any sex tech, and part of this is due to the fact that we do reviews. None of the writers feel very comfortable talking about their sex life on this platform. I'm not going to post an image here for that reason.
Apparently, CES has had a ban on sex tech for the longest time. I found out about this at a party that I attended last night, where I met a tech industry pioneer Lora DiCarlo. About a year ago, Lori invented a sex tech toy that won an award.
Unfortunately, CES would not allow her to display her device on the floor, figuring that it was a very profane thing and even took her award away. She then fought to have the right to display this tech, and CES did eventually apologize.
It is an interesting story, and I met a man who was hired to do a documentary about her. I saw that there was a lot of sex tech on the floor, and it was handled pretty tastefully, even for Las Vegas.
It is stories like this that start a conversation that we keep putting off, and this sex tech (not sex toys) is nothing profane and dirty.
5. More Wireless Charging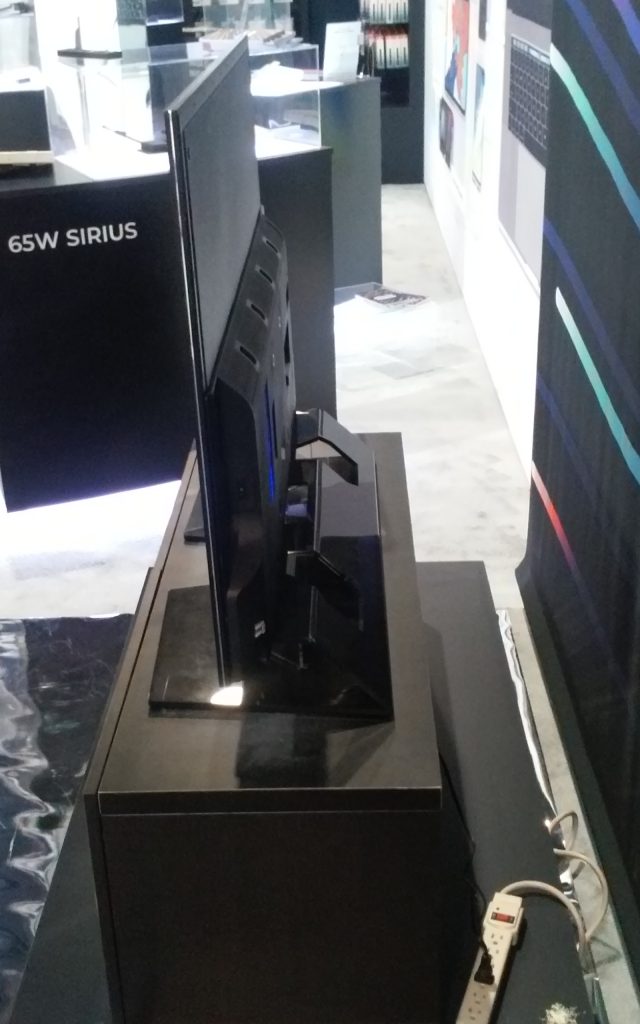 If you have a smartphone that was made in the last few years, then it undoubtedly has wireless charging capability. That is, you can get one of those Qi chargers and let it rest there until it is at full power. I have found that it is easier to use the charging wire, simply because my phone always seems to require some "sweet spot" before it starts to charge.
That wasn't the case for the wireless chargers that I saw there. Some of them could charge very easily through the case, and they are not stopped by something like a Popsocket or other holder accesory.
In fact, I discovered this company known as Eggtronic that is creating its own wireless charging tech. They even showed me this TV that has no cord, but just rests on the base plugged into the wall and charges wirlessly.
I see an era where any surface, be it a countertop or tabletop, will be able to charge a device. I am not just talking about smartphones, but tablets, and even common appliances.
Same Time, Next Year
We're going to tak some time off, just a few days, in order to rest, and then we are hitting 2020 proper with more and more tech reviews.
At this time, I am sitting at the Luxor in Las Vegas, doing this report on a tablet and Bluetooth keyboward, in some kind of food court. I'll soon be taking a shuttle to the airport, and I am told that there is some big snow advisory where my plane is landing. Hopefully I can get home again, because I am too burned out here.