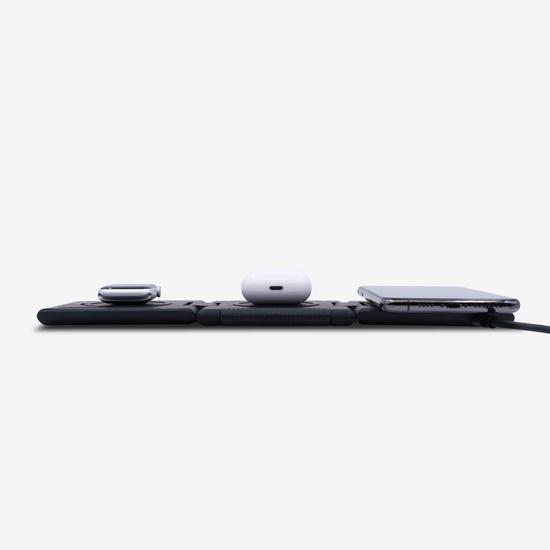 If you are one of my readers that watch my videos and then occasionally reads the text, then you might know the story of how Ampere sent this to me. It felt like some of this stuff was sent in pieces, and I put them together based on what I saw on the Ampere online catalog.
Our Review of the Ampere Unravel 3-in-1 Foldable Travel Wireless Charger
Usually, I only post one image of the product that I am reviewing, because usually that is enough. However, the Unravel has a lot of looks, so will notice what it looks like above, when it is…unraveled. On the surface, it looks like a wireless charging pad that can accommodate three Qi-enabled devices.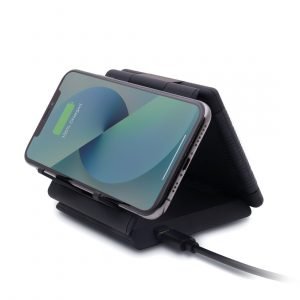 Like I said, nothing to write home about, as I've reported on so many wireless charging pads, and it isn't uncommon for them to accommodate more than one device. However, can you see that folded triangle here? That is also the Unravel, but it is…raveled.
As stated before, the Unravel is able to lay flat and charge three wireless devices, and two of these charging panels can support 10W charging speeds. You will notice that it can bunch up into a triangle so you can put your wireless device on this pop-out shelf that I believe I showed off on my video, but didn't really know what it was for.
I've been wanting to review Ampere products for a while, and the first time was at CES 2019. It's been almost three years since I admired the Unravel, and I finally got a chance to review it.
You can find out more the Unravel on the Ampere site, and it is available for purchase for a price of $69.96.
Our Review of the Ampere Side Pocket Wireless Charger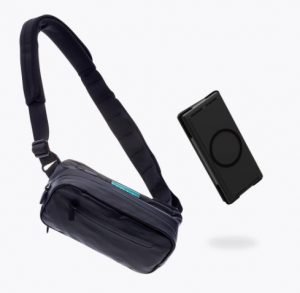 Just to let you know, this Side Pocket Wireless is essentially a few products rolled into one. Some of the bundles are bigger than the other, and for the purposes of simplicity, I'm going to go with the lesser of the bundles, as the one I received didn't come with a waterbottle.
So I will cover the basic Side Pocket which comes with a product that could easily be the subject of its own review: the Full Circle. The Full Circle is one of those mobile batteries that can do wireless charging. It has 10W Wireless Charging Output and 13,400 mAh battery capacity.
I believe that how this product is supposed to work is as follows: you put the Full Circle in the side pocket of the…Side Pocket. So, if your phone is a little low on battery life, you can put your device in the Side Pocket with the Full Circle and gain a little power while you are walking, or wherever you are carrying the Side Pocket.
If that sounds like something that you want, head on over to the Ampere site and lay down $59.99 for it, and even more for a Bundle that includes an electric pen and waterbottle.