We have some more Anker products to review. Seems like we just did review some, but there are many other products from "America's Leading USB Charging Brand."
The main product we'll cover is the Anker PowerCore Fusion 5000.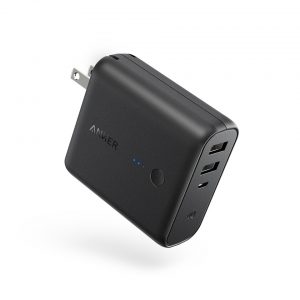 This small device looks like one of those USB wall chargers, and it is, but it also converts into a portable charger when you are not near a wall outlet. The plug folds inside, and you can carry this small(1.2 x 2.7 x 2.8 in) charger in your pocket and charge a tablet, iPhone, Samsung phone and many more with up to 5,000 mAh capacity. That should charge most phones at least two times before needing to be charged up again. It takes about two and a half hours to charge itself, but while it's charging you can also charge 2 other devices at the same time, and that can come in handy.
How do you know that your PowerCore Fusion has enough juice? There are little LED blue lights on the side that will give you an idea of how much power you have left.
All-in-all, a good little gadget that sells for $21.49 on the Anker website. You can also get it in three different colors- red, black and white.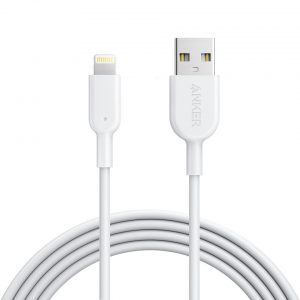 The 2nd item we're reviewing is a PowerLine II- 6 ft lightning cable. There isn't a whole lot to say about a lightning cable, but this one claims to be the world's most durable, and that is a big claim when it seems like you have to go through many cords sometimes. It's strength tested to hold up to 175 lbs, and can handle bends over 12,000 times, so go ahead and swing off your cord if you want to.
This cord is MFi Certified for iPhone X / 8 / 8 Plus/ 7 / 7 Plus / 6 / 6 Plus / 5S, and is actually a decent price for a phone cord- especially given it's durability. The cord sells for $10.19 on the Anker site. This cord could be color coordinated with the PowerCore Fusion, and you could also get it in blue.
As with most products we review, these two items were sent to us free of charge by Anker, and we give honest and fair reviews in exchange.