A few years ago, I was at a convention and I saw a device called a ChargeHub. It is one of the brands of Limitless Innovations, and they also make cool things like the CableHub, some personal cable organizers.
The ChargeHub X3 3 Port USB Charger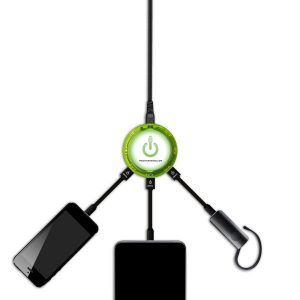 I have recently reviewed a very similar product from Nomad with their 3-Port USB Hub. This particular ChargeHub X3 has 2.4 amps per port, unlike the previously mentioned one with 2.1 Amps on one and 1 Amp for each of the others.
So this really can charge three different USB devices quickly. What you do is you plug it into the wall, and then plug it into the Hub itself for 25 watts of total power. It's pretty much as simple as that, but did you expect anything more complicated?
It definitely belongs on any desk or office, and what is interesting is that it comes in eight colors: Black, White, Red, Blue, Pink, Purple, Orange, and Green. You can even design some special photo of yourself on the free online DesignStudio. You can find it on the ChargeHub site for $39.99.
The ChargeHub X5 5 Port USB Charger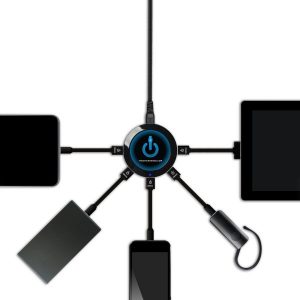 Well, it is pretty obvious what the difference between the X3 and the X5 is: one of them has more USB ports. Not only does the X5 have 5 ports, but it has 40 watts of total power.
Everything else is pretty much the same. Like it has the plug-in as well as the DesignStudio for you to put a picture in. It is also available in the same eight colors. It is available on the ChargeHub site for $49.95
Then there are some great accessories, like this Travel and Storage Case for the ChargeHub. All you need to do is zip it open, and it has 2 dividers, as well as places for the ChargeHub and the accessories. It is available for about $19.99 on the ChargeHub site.
I'll go ahead and talk about the other accessories that I have to review, the 4-part Micro to USB Value Pack for $23.99. Then there is the USB-C to USB-A Charge Cable, and the Lightning to USB cable for $7.99.