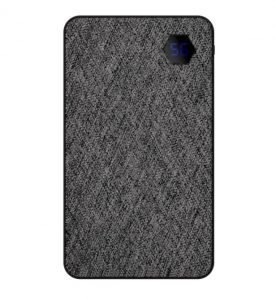 I'm not going to lie and tell you that I thought I had reviewed this product before. This is not the Wireless Laptop Power Bank, but it sure looks it. This Ultra Fast Power Bank actually has more power with 20,000 mAh with 63W total output.
You will notice that it does have the fabric covering of this guy, and I am not certain if you can tell the size. I wouldn't recommend trying to fit it in the back pocket or front pocket of your jeans, but maybe in a breast pocket of a sport coat, perhaps.
It doesn't really have any wireless charging ability, but it does have three power outputs (1 x 45W USB-C PD, 1 x 18W USB-A Quick Charge 3.0, 1 x 5W USB-A 2.4A). It is made to charge very fast, and they can even charge the MacBook and MacBook Air.
The kit comes with a USB-C to USB-C cable, and there is an adapter for a USB-A. If you want this, head on over to the Eggtronic or EINOVA website (one of those names seems to work) and pay $69.99 for it.