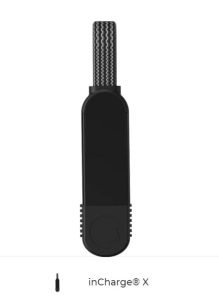 I've been doing video reviews on TheGeekChurch.com YouTube channel for about 3 years, and I have to admit that it has been a while since I reviewed a products from Rolling Square. This was also an inCharge charging cord, which I was given at CES 2020, it feels appropriate that I am reviewing the inCharge X given to me at CES 2023.
The inCharge X is a 6-in-1 charging cable that is capable of 100 Watts. Now, I had to admit that I was a little taken aback by its bragging of 6-in-1. After all, one end has a USB-A and USB-C cable, and the other end has USB-C and Lightning. I discovered that the Lightning can also work as a USB micro, which is just odd to me that this is compatible, but it does seem to work.
I will have to admit that I have the short version, which is somewhat awkward if you have to get in small ports. Still, I have to admire how small it is and how it magnetically locks together. I mean, you could keep this on your keychain and have it there for charging emergencies, as we have all had them.
You should be able to purchase the inCharge on the Rolling Square site for a price of $29.99.