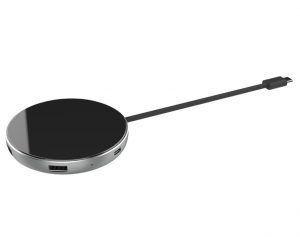 Well, it has been a while since we have reviewed a JCPAL product, so you can imagine how thrilled I was when I had a chance to review this particular USB-C Hub with Wireless Charger.
Of course, we have reviewed wireless chargers before, so I am not going to go through the whole schitck where I tell you, the reader what it is. I think that the real cool thing about this particular USB-C Hub with wireless charger is what it can do.
After all, not only can you put your wireless charging smartphone on it and forget about it, but there are a variety of USB ports available as well. It has a high speed USB 3.0 port and two USB ports. It also has a USB-C PD pass through for charging up to 60 Watts, and there is even an HDMI port for some nice-ola 4K video at 30 Hz.
Not only that, but this USB-C Hub with Wireless Charger is tough with a durable aluminum shell. It should be available on the JCPAL site for $99.99.