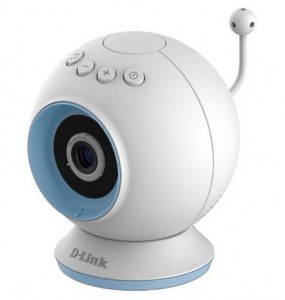 I haven't been a new parent for over 10 years, but I believe that it practically a requirement to have a baby monitor with video now. The D-Link Wi-Fi Baby Camera is certainly all that, and more.
I've reviewed D-Link products before, and they are the ones that you want when you have anything Internet related. I had a chance to try out their AC-1750 Router, twice. The D-Link Wi-Fi Baby Camera, or DCS-825L, is able to connect to your Wi-Fi Internet connection, and then connect to your mobile phone with the free mydlink mobile app. This way, you can use the Baby Camera on the go. By the way, I am talking about when you might need to take your baby monitor on the road with you, not a situation where you are watching your baby from a far away location. D-Link and I don't recommend the later. But one of the great features of the DCS-825L is an optional use of a battery pack (not included), so you don't need a power cord.
Other features of the DCS-825L including motion detection, sound detection, and even temperature detection. Normally, you just get one of these and not the other, but this has push alerts and you can use the monitor even if the smartphone is locked. Another helpful feature is the night vision, which is a usually feature on baby monitors, and this one is good for 16 feet.
Another unusual feature is that this can do lullabyes, and it comes with 5 pre-programmed. There is also a two-way radio so you can communicate with the baby, assuming that doesn't freak him or her out. Did I mention that there is a 4X pinch to zoom feature from the mobile app? Oh, it's there.
As far as I am concerned, this D-Link Wi-Fi Baby Camera is the perfect gift for a couple who are about to have a baby. You should be able to get it on Amazon for about $179.99, and find out more information about it here.