Promise Technology is a computer company based in California that is dedicated to improving storage capabilities for computers and the technology market. We had the opportunity to review two of their products. The 1st one is the Apollo Cloud 2 Duo- a personal Cloud storage system. The 2nd item is the Thunderbolt 3 Dock.
Apollo Cloud 2 Duo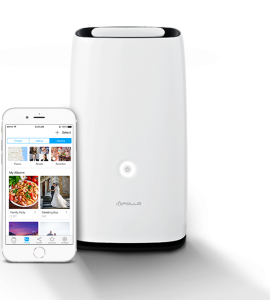 If you need a massive storage system for files and photos, and don't want to waste money on a monthly membership to the Cloud or some other on-line system elsewhere, then this is a great system.
It allows 40 users to have their own accounts on it at once, and you can access your content from anywhere and easy to sync from any device to your system from anywhere.
The software is smart, and can recognize faces and sort pictures into individualized albums if you roll like that. If you have Time Machine for macOS, that is supported as well. You can be assured that the info you store is secure with encryption of military grade.
This sleek, white tower measures 5.6 x 7.5 x 2.4 inches and weighs in at 2.64 pounds. It has a glowing light on the front that will change colors based on the status of the device. Thanks to an app you can download for your phone, you can control this light- among other things with some taps.
If you have a router with Gb port, internet connection(high-speed recommended), and a smartphone, tablet or computer, along with the free Promise Apollo Cloud app, you have what you need to get started with this great photo storage system- which you can buy with 4TB or 8TB of storage. The 2 TB model is $199, the 4TB model is $369 , and $449 will buy the extra storage at 8TB.
Thunderbolt 3 Dock

Promise Technology has thrown their hat into the ring with this Thunderbolt 3 Dock (TD-300). We've reviewed a Thunderbolt 3 dock from OWC before, and you can see our review of that one here.
This Thunderbolt 3 Dock is $50 cheaper than the one from OWC, but it has less USB 3.0 ports(2 on front, and 3 on back). Still, five is better than the three most docks offer. There is the Gigabit Ethernet port to allow connection to your LAN. An Audio In/Out port gives access to your tunes. The SD 3.0 card reader is also a great feature.
The dock is about the same size and look as other Thunderbolt 3s. This one is 9 x 3 1/2 inches, and about an inch tall, weighing in at about a pound. It has a black matte finish on top, but is glossy on the sides.
Included in the box is the dock, an AC/DC adapter, and a Thunderbolt 3 cable. All other cables that you might need for connections like an HDMI cable is not included.
The dock is easy to use and setup right out of the box. There are no FireWire or eSATA ports like other docks, but these don't seem to be extremely necessary for most people. The only other downside to this dock is that it only offers 60 watts of charging power, which can be useful, but if you need something more powerful, you will probably be paying more for an 85 watt device.
You can buy this product for about $249 off the Promise Technology website, or online stores like Amazon.com.
Disclaimer- We received both of these models for free to review by Promise Technology. No other compensation has been received for this fair and unbiased review.